Fire breaks out in Valle Aurelia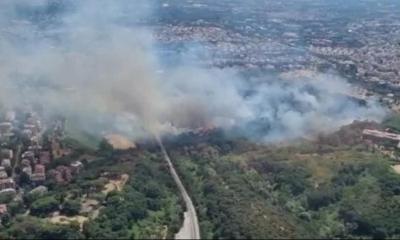 The fire broke out in the Valle Aurelia of Rome before spreading
 ROME – A fire has broken out in north Rome between Pineta Sacchetti and Monte Mario. The blaze reportedly started at 2pm in Pineto Park and was spread due to the warm air to other areas including Valle Aurelia.
 Huge plumes of smoke could be seen rising from the affected area as helicopters were brought in to try and get the fire under control.
 Pineto Park has been evacuated and firefighters as well the police are currently on the scene.
 The fire has damaged the historic changing rooms of the Vis Aurelia centre, located close to the park.
 The local sports centre on Ettore Stampini Street was evacuated due to dense smoke with several children located in the area at the time.
 The fire follows a number of other recent fires that have broken out in Rome in the past week with the high temperatures, including in Laurentina and Marino.
 © COPYRIGHT ITALIAN INSIDER
UNAUTHORISED REPRODUCTION FORBIDDEN