Spanish bullfighting exhibition will provide a contemporary outlook on the ancient tradition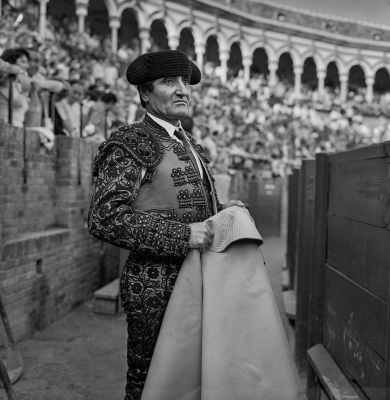 Aitor Lara, Ante el ruedo
 NAPLES – On Friday June 24 at 8 p.m.,the exhibition TAUROMAQUIAS / TAUROMACHIE will be presented by the FOQUS Fondazione Quartieri Spagnoli Gallery and will be attended by Spanish Ambassador Alfonso Dastis. 
 It will highlight contemporary gazes on an ancestral Mediterranean legend and has been curated by Iris Martín-Peralta. Three contemporary artists - photographers Aitor Lara and Gianmaria De Luca and director Elettra Pierantoni - retrace and revisit Spanish bullfighting, an ancient and millenary Mediterranean tradition.
 Organised by the Spanish Embassy in Italy, FOQUS Fondazione Quartieri Spagnoli, with the collaboration of Fondazione con il Sud and Consorzio Jobel - Museo e Giardini di Pitagora, the exhibition presents the specific Hispanic focus on Naples' Quartieri Spagnoli (built during the Spanish occupation in the 16th century) with photography and cinema, an audio-visual immersion into what bullfighting represents in the 21st century.
 Aitor Lara (Seville, 1974), one of the most significant figures in contemporary Spanish art photography, dedicates a reinterpretation of the ancient Spanish bullfighting, a Mediterranean legend still practised in many Spanish cities and the subject of profound contrasts between supporters and detractors. The large black and white images of the Maestranza series bear witness to the search for the faces and movements of the protagonists of the bullfights of inner Spain, in dialogue with the photographic works Eva Florentia by Gianmaria De Luca (Rome, 1988), an artist who, through the study of different printing techniques, starts from the influences of the Italian tradition to reinterpret the ancestral struggle between bull and human being with a different outlook, inspired by the figurative techniques of Velasquez.
 On the opening night at 9 p.m., the film Eva (2020, 60 min) will be presented, of which the director Elettra Pierantoni (Rome, 1987) has dedicated to bullfighting. Eva is a former Italian bullfighter who lived in Andalusia for 20 years and wants to celebrate the 20th anniversary of her public debut by highlighting bullfighting again. Eva's experience in the world of bullfighting is an opportunity to enter through a different, feminine perspective into a myriad of symbolism. The three acts of the story correspond to the three acts of bullfighting, as well as the three moments in Eva's life; the flight, the dream and the new challenge. It is the story of an insatiable passion, of an endless love, of an artistic obsession: a reflection on the fascination and drama of a fight that, in its gory and elegant rules and ceremonies, represents one of the most ancient reminiscences of Mediterranean cultures.
 The exhibition is accompanied by a catalogue, which contains introductory and critical texts, as well as the works presented in the exhibition.
 Information about the event: 
Venue: FOQUS Fondazione Quartieri Spagnoli of Naples
Address: via di Portacarrese a Montecalvario 66, Naples
Hours: 9am-6pm on weekdays, 10am-6pm on Saturdays, closed on Sundays
Entrance: free
 Press office:
Alessandra Santerini, email: alessandrasanterini@gmail.com, cell +39 335 68 53 76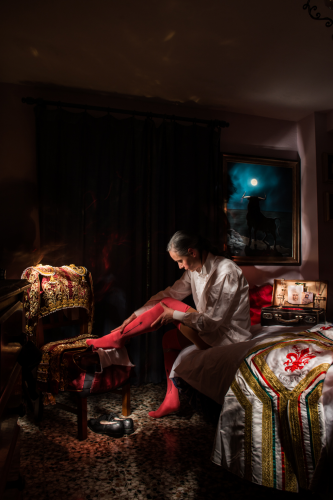 Gianmaria De Luca, Eva Florentia
 © COPYRIGHT ITALIAN INSIDER
UNAUTHORISED REPRODUCTION FORBIDDEN