Vatican prelate Cardinal Angelo Sodano dies at 94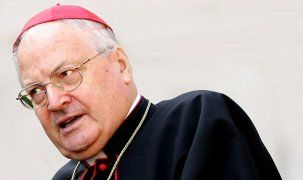 ROME – Cardinal Angelo Sodano, who served two popes as secretary of state and as Dean of the College of Cardinals, has died in Rome at the age of 94.
 Vatican News confirmed the death on Friday saying the cardinal had been hospitalized early May for pneumonia after testing positive for Covid-19.
 Born November 23, 1927, in Isola d'Asti, a town in the Piedmont region of northern Italy, Sodano was ordained a priest in 1950.
 Named secretary of state in 1991 by Pope John Paul II, he was re-appointed to the role by Pope Benedict XVI in 2005 and served as the Holy See's number two official until 2006.
 Pope Francis accepted Sodano's resignation as Dean of the College of Cardinals in December 2019, a position he had held since 2005.
 The Italian prelate's legacy was marred by his staunch support for the late Rev Marcial Maciel, the founder of the Catholic order Legionaries of Christ, who was later revealed to be a pedophile.
 cc
 © COPYRIGHT ITALIAN INSIDER
UNAUTHORISED REPRODUCTION FORBIDDEN