Ukrainian protesters urge expulsion of Russia from FAO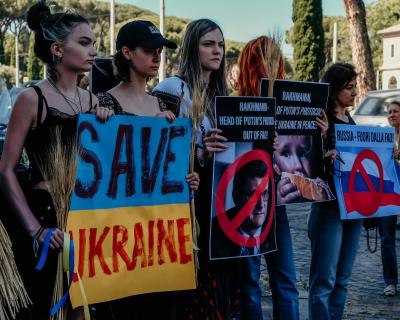 Demonstrators at FAO HQ Thursday; PHOTO CREDIT: KATERYNA YEGOROVA
 ROME -- Scores of members of the Ukrainian community in Italy have staged a protest outside the headquarters of the Food and Agriculture Organization (FAO), calling for Russia to be expelled from the UN agency and for Vladimir Rakhmanin, a former head of protocol of Russian President Putin, to be removed from his post as FAO Assistant Director-General and Regional Representative for Europe and Central Asia.
 Some 70 Ukrainians, many of them women wearing traditional national costume, unfurled banners Thursday afternoon outside the FAO complex by the Circo Massimo, calling for the Russian blockade of Ukrainian ports to be lifted so that urgently needed grain exports can be shipped to Africa and the Middle East.
 Organisers of the demonstration said their main demands included "excluding from FAO membership Russia, the aggressor country that is the cause of terrorism, including food terrorism."
  They called also for "an information campaign among FAO member states on the catastrophic consequences of Russian aggression against Ukraine for world food security" and urged the FAO to "fire from the FAO high-ranking agents of the Putin regime, such as Vladimir Rakhmanin, former head of Putin's presidential protocol, assistant director general of the FAO."   
  "Stop Putin = preventing hunger in the world," one of the slogans said. 
   WFP Executive Director David Beasley on Thursday appealed to Putin to lift the Russian blockade of Ukrainian Black Sea ports so that food exports can resume. Moscow replied that would only be possible if Western sanctions against Russia are lifted. No end appears to be in site to the stand-off in which Russia blackmails the world by choking off food supplies.
 The FAO Director General Qu DOngyu, in a speech to the UN Security COuncil Thursday, stopped short of joining in the calls Russia to lift the blockade, underlining the UN agency management's muted response to what the FAO initially described as a "military operation" rather than invasion, echoing Russian propaganda.
 jf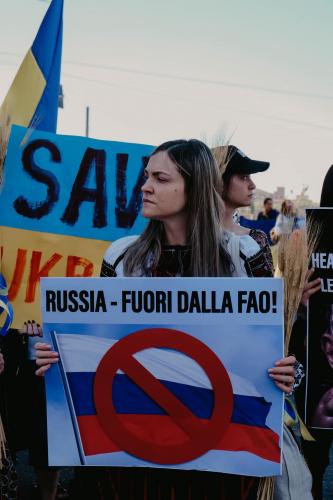 PHOTO CREDIT: KATERYNA YEGOROVA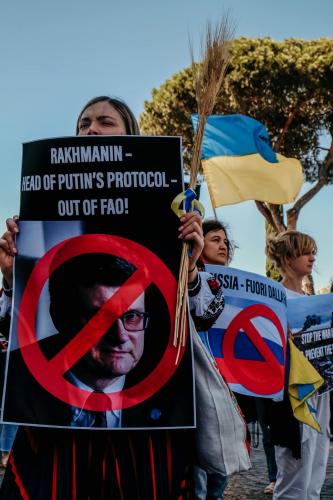 PHOTO CREDIT: KATERYNA YEGOROVA
 © COPYRIGHT ITALIAN INSIDER
UNAUTHORISED REPRODUCTION FORBIDDEN