US warns Beijing of consequences should it aid Moscow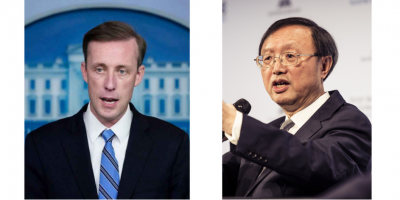 US envoy Jake Sullivan and CCP delegate Yang Jiechi
 Rome – US security advisor Jake Sullivan spoke with the Director of the Chinese Foreign Affairs Commission Yang Jiechi for eight hours on Monday to discuss the notion that Moscow requested aid from Beijing while it is suffering from Western sanctions, political sources said. China denied that Russia has issued any such request, calling it "false information" that Washington had spread "to distort or discredit China's position." Sullivan nonetheless warned "any support to Moscow will have implications."
 Sullivan expressed his country's concerns about Beijing's involvement in the war in Ukraine and reiterated to China "that any kind of support for Moscow - military or economic - will have implications."
 Jiechi stressed that the priority for Beijing is "maximum moderation" in managing the crisis, and underlined the importance of protecting civilians and preventing a humanitarian crisis. To tackle the crisis, Yang added, as quoted by Xinhua, the main Chinese news agency, "we must go to the source of the problem and respond to the legitimate concerns of all parties."
 The meeting, which took place at the Cavalieri Waldorf Astoria, also discussed Taiwan. Beijing, Yang said, expressed "deep concern" and "firm opposition" to the "wrong words and actions" of the United States on the issue, and warned that "any attempt to condone and support the separatist forces" of the island "will never be successful."
 Foreign Minister Wang Yi made it clear that Beijing does not want to be the target of Western economic sanctions. "China is not part of the crisis, much less does it want to be hit by sanctions," said Wang during a phone call he had with his Spanish counterpart Jose Manuel Albares, reported on Monday.
 Mr Sullivan also spoke with Italian Premier Mario Draghi on Tuesday after having also met with diplomatic adviser Luigi Mattiolo.
ln
 © COPYRIGHT ITALIAN INSIDER
UNAUTHORISED REPRODUCTION FORBIDDEN