Iraq peace prospects threatened by antidemocratic militia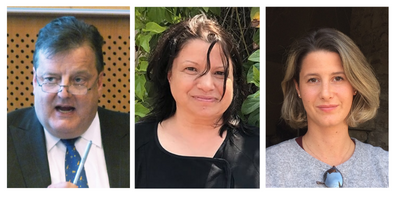 Experts on Iraq: William Spencer, Maria Rita Corticelli and Sofia Barbarani
 ROME – The current political situation in Iraq post-elections poses a grave threat to the long-term peace and stability in the country due to the continuing power of militias raised to defeat ISIS and while there is scope for hope for the future of the war-torn Gulf nation, there are significant obstacles to be overcome, expert speakers told an EGIC discussion on Iraqi prospects up to 2050.
 "Currently, there is a mafia-type organisation holding a sword over the regular functioning of government," explained William Spencer, executive director of the Institute for International Law and Human Rights. "If this coordination centre gets its demands met, it's going to end up with militias, armed groups who are not elected, choosing the next prime minister."
 Mr Spencer, who has over 22 years of experience in international diplomacy, human rights, international law, and crisis management, was referring to the PMU - Popular Mobilisation Units - itself a broad term for many different militia groups, several of whom are loyal to Iran. "They claim to be integrated," said Mr Spencer, "but they're not."
 In 2014 when ISIS attacked Iraq, Grand Ayatollah Sistani put out a fatwa to say "rise and defend your country," which the PMU did. This was, at the time, "admirable," but now there are apparently few Daesh fighters left in the country and the armed groups have outgrown their role.
 The Iraqi government gave the PMU State legitimacy and a seat at the national security council in 2016. There are approximately 115,000 PMU members on the Iraqi government payroll, although reportedly only 60,000 of these are actually mobilised.
 Rife corruption means that tens of thousands of PMU workers are "just cream off the top," says Mr Spencer. He highlighted that the PMU - also known as 'Hashd' - controls several ministries, including that of Labour and Social Affairs, which manages the very money they are paid with.
 Mr Spencer highlighted it as "a huge issue that undercuts the credibility of the Hashd as an institution and role they're playing in Iraqi society." After 16 years of "quiet, incremental progress," this is a "very dangerous moment" he said. 
 "They have to be integrated in a real way," stressed Mr Spencer, and if Iraq wants to be a unitary state by 2050, we have to see their "demobilisation, disarmament and reintegration back into established military commands." He added that Grand Ayatollah Sistani could also withdraw the 2014 fatwa, which is still pending.
 Concerning as this threat is, 'Iraq should not be considered a country that is inevitably prone to fragmentation." Journalist Sofia Barbarani made this point in her opening comments as moderator of the press conference, which was held at the Euro-Gulf Information Centre (EGIC) in Rome on Dec. 15.
 The two speakers supported Barbarani's statement, with researcher and writer Maria Rita Corticelli concurring that "the image of Iraqis is too simplified in the media," while Mr Spencer noted that the country's successive elections and peaceful transfer of power since 2006 are often overlooked, and its democracy has been a model for the entire Middle East region.
 Mr Spencer further highlighted how demonstrators in Tashmir Square during the 2019-20 protests were not trying to overthrow the government, but were calling to amend the constitution. Ms Bararani, who was living in Iraq during the protests, said that young Iraqis seemed to be making "a conscious effort to rally underneath the Iraqi flag," rather than aligning primarily with different religions and ethnicities as is the common custom.
 Ms Corticelli also noticed a push towards secularism during her time living in the country. She was surprised to hear even a parish priest say to her, "we are tired of being referred to as Christians, we are citizens first."
 The education system is still lacking according to Ms Corticelli, who directed courses in studies of genocide and human rights at the University of Urbil. She recalled how her students were "amazed" when she told them that Europe had also endured centuries of religious wars and that other countries had genocide, such as Rwanda. "They genuinely didn't know," she said. Ms Corticelli said that informing Iraqis of other contexts around the world that are relatable will be very useful for them and that Iraq's isolation is a stark problem.
 Though there is budding hope for peace and stability in the country thanks to its growing appetite for secularism and education, especially from younger generations, Mr Spencer called right now "a scary moment."
 © COPYRIGHT ITALIAN INSIDER
UNAUTHORISED REPRODUCTION FORBIDDEN