Government's decision to abandon ILO candidate rocks South Africa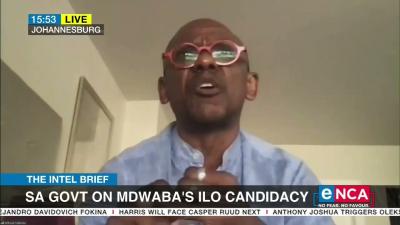 JOHANNESBURG – South Africa's government has been rocked by a chorus of protest over its decision to drop its former officially endorsed candidate to head the ILO, Prof. Mthunzi Mdwaba, after Pretoria spent over half a million dollars on his campaign to become director general the Geneva-based organization. Pundits are demanding that the decision be reversed to prevent the field being open for the rival African candidate, Gilbert Houngbo, the IFAD president from tiny Togo.
 "Should Mdwaba have succeeded, yet another South African would've occupied a powerful high-profile position in the United Nations," the South African news site Eye Witness News said. "Yet the government is said to have ordered that the country can support anyone else but Mdwaba."
"After pouring resources and R8 million (dlrs 550,000) into the campaign to have Professor Mdwaba at the helm of the ILO, Cabinet has resolved to withhold its support" EWN said.
"Sources have told Eyewitness News that the decision was based on nothing else but what they describe as 'petty politics' – with a sentiment expressed that Mdwaba is not well-liked in government circles for a myriad of personality-based issues.
Mr Mdwaba, the Productivity SA board chair and businessperson, has accused South African Labour Minister Thulas Nxesi, of being behind the SA government withdrawing its support for his bid to head the International Labour Organization.
In an interview with Power 98.7 talk-show host Lukhona Mnguni on Friday, Mdwaba, a former vice-chair of the ILO, disclosed that he and Nxesi had a history dating back to their days at Wits University.
"The minister and I, we have known each other for very long, I used to sell him leather jackets at Wits [University]. He brags about that, he tells everybody. But I've learnt that he probably says different things when I'm not there. I say this really with a broken heart, because I've heard all the things he says about me when I'm not there," Business Live quoted Mr Mdwaba saying.
As board chair of Productivity SA, a government entity aimed at improving productivity in the economy to ensure sustainable growth, Mdwaba reports to Nxesi.
Mdwaba told Mnguni that he had seen an official letter written by Nxesi earlier in October in which he stated that "he is looking for another [ILO director-general] candidate. It's a very interesting letter, I've seen the letter, it's not directed at me, but at the department".
"It said as of October 1 there must not be anybody assisting me [with my campaign]."
Mdwaba's candidature had been endorsed by the African Union, the Southern African Development Community (Sadc) tripartite bloc (governments, trade unions and employers), the Southern African Trade Union Co-ordination Council (Satucc), Cosatu, the Federation of Unions of SA (Fedusa) and the National Council of Trade Unions (Nactu), and the SA government, among others.
 His campaign team regrettably noted the "mysterious withdrawal" by South Africa, and that Mdwaba's campaign would proceed despite the "temporary setback".
 The government has yet to provide reasons for the withdrawal, with cabinet spokesperson Phumla Williams refusing to comment.
 Dr Pali Lehohla, the former Statistician-General of South Africa, weighed into the fray, saying "the unceremonious and sudden withdrawal of support by the government for Mdwaba's national campaign to be the next director-general of the International Labour Organisation sends the wrong signal to the world."
 "Worst of all, it hurts Mdwaba's person as a citizen who trusts or trusted in his government. Business Unity South Africa has pledged its continued support for Mdwaba, though."
  His remarks were echoed by Rebone Tau in the Daily Maverick. "We can't have a country that takes emotional decisions based on unclear objectives," he said.
 "Foreign policy decisions need to be informed by our national interest. This is how other countries decide their approach to dealing with the rest of the world."
  "South Africa can't continue to be a laughing stock globally, can't continue to field candidates and withdraw them later. We need to see a clear vision and mission.
  jf
 © COPYRIGHT ITALIAN INSIDER
UNAUTHORISED REPRODUCTION FORBIDDEN