IFAD promotions fuel staff fury over executive 'lovers'
Nadine Gbossa (left) while working at OECD in 2018. Photo credit: OECD
 ROME – IFAD President Gilbert Houngbo announced two promotions of staff to vice president, fuelling anger among staff after the Togolese supremo created a bogus liason post with the FAO for a senior woman executive evidently so that she can stay in the Eternal City near her alleged lover in the UN agency's stratosphere, IFAD sources said.
 Houngbo, already under fire for his efforts to jump ship from IFAD to head the ILO or the OFC, announced Tuesday he was promoting American lawyer Katherine Meighan and Italian honcho Alberto Cogliati to become vice presidents.
 "IFAD already had five VPs," an insider at the poverty-busting agency said.  "This is just a way for him to throw around new titles and make the organization even more top heavy."
 "Each of them manages an office of 10-20 people. It looks like he is rewarding them for turning a blind eye to his conflicts of interest."
 "Is he trying to buy more votes for his campaign?  It's not his money, so why not?  He probably has a legal opinion from Katie that says it's fine."
 The appointments were announced as the Insider disclosed that former African director Nadine Gbossa has been given a newly created job as Director of Food Systems Coordination based in the office of the Food and Agriculture Organization DG Qu Dongyu with immediate effect," an IFAD source told the Insider.
 The Togolese IFAD supremo gave the statuesque Nigerian the suddenly created post "to avoid further perceived conflict of interest as the VP (Dominik Ziller) chairs various committees on resources and review of projects and programs and Gbossa was Regional Director with a huge portfolio," a veteran IFAD watcher told the Insider.
 There was outrage among staff at IFAD at the implication Gbossa had contrived to remain in the Eternal City near to alleged lover boy Ziller, while hundreds of staffers were told in recent years they had to leave headquarters for far flung postings or quit under a ruthless decentralization programme Houngbo introduced.
"This was probably a trick to keep Gbossa from having to move to Africa," said one staffer. "Meanwhile other staff are forced to resign rather than move their families overseas."
 Another IFAD watcher commented that "the scandal is in my view both the conflict of interest, the bad judgement call and the creation of a fictional highly paid D1 position for Gbossa within FAO DGs office which was never advertised so no one else could compete and apply for it in accordance with approved HR policies and procedures. "
 "Whether they are married or not in this regard is irrelevant. And it means people now talk about Houngbo's candidacy (for ILO) and Ziller's love affair rather than the important mission of IFAD. That's never good for any organization."
 jf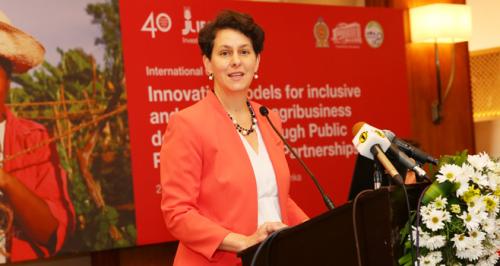 Katherine Meighan. Photo credit: IFAD
 © COPYRIGHT ITALIAN INSIDER
UNAUTHORISED REPRODUCTION FORBIDDEN