Despite Nobel prize, WFP chief Beasley's future uncertain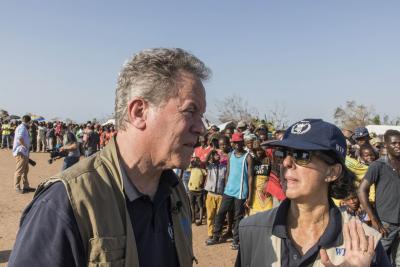 David Beasley, WFP Executive Director, visits cyclone-hit Mozambique. Photo: WFP/Marco Frattini
 ROME – The Biden administration is pushing for WFP Executive Director David Beasley to stand down and be replaced by an American former diplomat, David Lane, when Mr Beasley's first term of office ends next year, diplomatic sources say.
 It is not clear whether Mr Beasley, who collected a Nobel peace prize for the UN agency, would wish to serve a second term or whether he might be happy to return to the United States, possible to resume his political career, the sources said.
  The WFP ED is appointed by the UN Secretary General and the FAO Director General, theoretically on the recommendation of the WFP Executive Board. In practice the post has become regarded in recent years as an American fiefdom, though Germany was outraged when Mr Beasley was appointed rather than one of two German candidates.
 Mr Beasley was a Trump administration appointee but has obtained wide bipartisan support for WFP in the United States while in Rome and has been particularly successful at bolstering WFP finances for providing emergency relief supplies to combat hunger and starvation.
 The official UN retirement age has been increased to 65 recently though there is no age limit for the bosses of UN agencies unlike for their employees. A second term would take the ED beyond 65 though FAO former DG Jose Graziano da Silva, who pushed Mr Beasley's appointment through at the request of the Trump administration, was 70 at the end of his second term at the head of WFP's sister agency.
 One WFP observer noted that "he (DB) might be pushing 64 or so. Not that reaching that would force him out like it would lesser mortals, but would he want to continue until he's 70'ish?"
 "But then again, many things can happen 'for family reasons.' And he does seem to spend an awful amount of time Stateside."
  The leadership of WFP is likely to be high on the agenda of the new US ambassador elect to the UN food agencies, Cindy McKane, who still is awaiting Senate confirmation of her appointment to replace Kip Tom. 
 Mr Lane served as US ambassador to the UN food agencies in Rome from 2012 to 2016 when he was pulled from the post, reputedly for "failing to protect US interests" at the FAO when Graziano was DG and sought to sideline and push out most senior executives from the United States and other OECD countries.
 Despite saying publicly once in an unguarded moment that the FAO "is a poster child of UN corruption," Mr Lane was thought by the State Department to be using his position to try and replace American Dan Gustafson as Deputy Director General of the FAO to the Director General, José Graziano da Silva, the sources said.
 It is not uncommon for foreign ambassadors to the FAO to use their posts in Rome to try and get hired as consultants to the UN agency on lucrative salaries, ideally enjoyed together with a pension from their home country.
 Should Mr Beasley be forced to leave WFP against his will, it would likely demoralize many staff at WFP, where he has introduced reforms such as improving health cover and a crackdown on sexual harassment and abuse at the WFP.  Many would see Mr Lane as a possible lightweight compared to the ebullient Mr Beasley, who brought to the agency management experience gleaned from his time as Republican governor of South Carolina.
 The award of the Nobel climaxed Mr Beasley's term at the WFP though some critics say the peace prize should not be awarded to humanitarian organizations but rather to people more directly involved in diplomatic efforts for peace.
 jf
 © COPYRIGHT ITALIAN INSIDER
UNAUTHORISED REPRODUCTION FORBIDDEN