Spanish bid for UN Committee for Food Security in jeopardy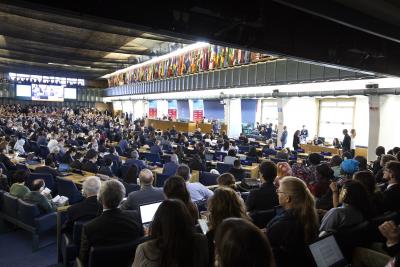 A meeting of the Committee for World Food Security at FAO headquarters in Rome
 ROME – Spain's decades-long run of bad luck in the politics of the UN Food and Agriculture Organization (FAO) evidently continues as an expected show of unity by African states appears likely to prevent a prospective Spanish candidate from heading the UN agency's influential Committee for World Food Security, diplomatic sources say.
 Under the UN's revolving spoils system, Madrid had backed a Hungarian candidate who ran to be the FAO Council's Independent Chair against Dutch and Dominican candidates, the sources said. Spain's foreign ministry had apparently hoped that by voting for the Hungarian and encouraging other EU states to do so it could deprive either European country of the Independent Chair, meaning the Dominican Republic would get the job.
 With a Latin American as Independent Chair Spain could argue that under the revolving spoils system Spain should head the CFS, the chair of which is due to be elected two months hence.
 However after the victory of the respected Dutchman, Hans Hoogeveen, as Independent chair Spain is in a weak position to argue that another EU state should head the CFS, say the sources.
 Meanwhile Cameroon has disclosed that one of its' diplomats will run to head the CFS and that it has the backing of most African member states.
 In the face of a unified African claim to the post, a Spanish candidate would face an uphill struggle to win.
 It is not the first time Spain has failed in a bid to jockey for position at the FAO. Former Spanish foreign minister Moratinos ran to be FAO director general against Brazilian agronomist José Graziano di Silva, who won by a narrow margin after some dubious legal chicanery over whether countries that were in arrears on their dues should be allowed to vote.
Spain may have been looking for a rivincita since then but seems to have been out manouvred in the latest diplomatic chess moves in the Eternal City, the sources say.
 Copyright Italian Insider. 
 jf