"Total chaos" at Kabul airport as interpreters who worked with Italy await access at gate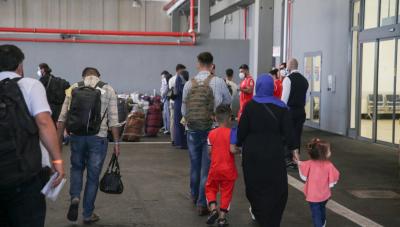 Passengers on the first military flight out of Taliban-controlled Kabul arriving in Rome
 KABUL -- As many as 370 interpreters and other Afghans who worked with Italian forces and institutions were waiting outside the Afghan capital's airport Tuesday from where they were to be flown to Italy aboard military aircraft, members of the group said.
 "All the 370 are at the airport gate in the midst of at least 10,000 people," one of the interpreters in the group told Italòian Insider,  "it is a total chaos."
  The 370 included 60 interpreters and their families who travelled to Kabul last week-end from Herat, formerly the headquarters of Italian forces in Afghanistan, as the Italian military sought to meet its pledge to help local support staff to leave the country and avoid potential Taliban reprisals, one of those who made it from Taliban-occupied Herat told the Italian Insider.
 "Italian authorities are looking for a way to get the afghan collaborators to the airport for the airlift and it may take some time," the interpreter said.
  Some 20 collaborators with italian forces were flown out of Kabul airport Sunday on the first italian military to leave the capital since the Taliban seized control. In all 70 people including italian diplomats and aid workers were on the flight.
 "Given that, we have to stay prepared and wait for their call."
 No details of how the 60 made it from Herat to Kabul were available, but the fact that they managed to make the journey suggested that Taliban authorities may be turning a blind eye to some evacuation by embassies of Afghans who worked with Western forces and institutions.
 jp