FAO names French astronaut goodwill ambassador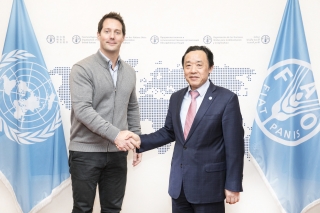 FAO DG Qu Dongyu with French astronaut Thomas Pesquet. Photo credit FAO
 ROME -- FAO Director General Qu Dongyu has launched a charm offensive toward France, appointing French astronaut Thomas Pesquet as a goodwill ambassador of the UN agency despite the space pioneer being married to a livestock officer at the poverty-busting organisation, FAO sources say.
 Mr Qu has been seeking to repair poor relations with Paris, damaged after China trounced the French favourite to become DG of the FAO, thanks in considerable part to Beijing using financial incentives and threats to FAO members in Africa and elsewhere to vote for Qu.
  Appointment of M.Pesquet to the symbolic role has raised eyebrows in the diplomatic corps accredited to the UN FAO since the astroanaut is married to Anne Mottet, a livestock officer at the UN agency, raising a possible conflict of interest.
 Mr Qu also has engaged in a dialogue with the French Nobel prize for Economics Esther Ruffo as part of the fence-mending exercise which the DG asked deputy director general Laurent Thomas to organise, the sources said.
 jf