EGIC conference: 'Contextualising the Looming US Redeployment from Afghanistan'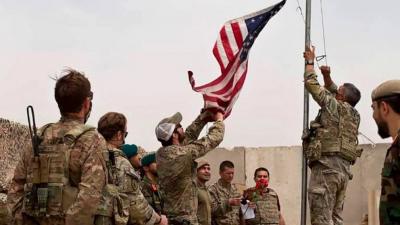 ROME – The future of Afghanistan hangs on a knife edge between renewed civil war or a possibility of an outbreak of peace, after the US withdraws after 20 years of Afghan engagement, according to a leading journalist specialising in Afghanistan, Pakistan and the surrounding region: Abubakar Siddique. 
    After two decades of trying to stabilise Afghanistan, US president Joe Biden announced his decision to withdraw US involvement from the country, hence leaving Afghanistan in the hands of the Taliban. Siddique explained, at the Euro-Gulf Information Centre (EGIC), that the choice of redeployment was made "because of an internal political debate," with the US largely "cut-off from what was really happening on the ground in Afghanistan." The importance of securing US national security is another factor. Indeed, the aftermath of the 9/11 attacks saw an amplified interest of increasing western security, so that such an ordeal would not repeat itself. In this vain, the US were "trying to make Afghanistan into a country so that [westerners weren't] in danger." Nevertheless, from the offset of the US deployment, Siddique noticed that they "never focused on preventing or providing security to Afghans," which would have allowed them "to engage in a nation-building process."
  Siddique explored the 'worst-case scenario' which would involve the Taliban "taking over large spells of territory. There are no "separate ethnic zones in Afghanistan," so tensions will inevitably be created amongst militia, who are "bound to fight over spoils, territory and power." The Afghan army has one crucial challenge: airpower. With the departure of US/NATO airpower, Afghanistan cannot maintain its current fleet. The air force was the biggest advantage Afghan security forces had against the Taliban. Once there is a complete state-collapse, like in the 90s, "war will have a spill-over effect." With the return of the Taliban, it is "bound to happen that groups like Al-Qaeda" will resurface and will have some kind of sanctuary in Afghanistan.  There is also a potential national-security threat for Russia: Russia's position is that they support a transitional-government, including the Taliban. 
  The 'best-case scenario' would be a peaceful future for Afghanistan, which could encourage Pakistan and India to solve their tensions. The first step between Afghanistan and Pakistan would concern the Durand line. The border zone could be a "zone for friendship and business." It would be necessary to address Pakistan's national-security issue, to keep out militants, and to make a "war region into a region of friendship." Security in Afghanistan is paramount: without it, "nothing good will happen. It's in nobody's interests for Afghan to have a civil war." The Afghan government are already trying to decide what political initiatives can be taken to turn Afghanistan into a "neutral state," where everybody can invest. However, it is not an "easy country to absorb into another state system," so a much more diplomatic effort will be required. Looking to the effect on other countries, Iran could even form an "agreement with the international community."
  Afghans typically hold a strong sense of national identity, which is a attribute that could have been "built on"  but this was axed by the Afghani-leagues who have "failed [Afghanistan] miserably." The leagues continue to fight relentlessly for their personal interest but their fight for national interest is non-existent, irrespective of how many troops are deployed to help. The country has "many problems" and the absence of national cohesion is one of the most prominent.   
  Geographically, Afghanistan is surrounded by half of humanity, with China and Russia as its near neighbours, meaning that it a place of promise where there will always be a "global interest." There has, however, been an "elite failure" as there has been no effort to try and establish a local Afghan economy, with an initiative similar to the Marshall Plan of 1948, which is vital for progress and success. Since most Afghans are traders and farmers, the US focus should have been on agriculture and trade.   
  Looking forward, the withdrawal is set to be completed by September yet this may be slowed down as the Taliban have made tremendous advances in all of Afghanistan, having recently captured six more districts. They had already overrun more than 50 districts and US estimates worryingly reveal that the "Taliban may be able to topple the current figure within six months." Fortunately, the hopes for reconciliation between the government and the Taliban "are not dead." Reconciliation would be the best way to end the war in Afghanistan.
  In the current uncertainty, whilst agreements are still being made, Afghanistan is largely dependent on foreign assistance. Despite having made some technological advancements, improving connectivity, it is "not enough to keep the government running." In the run-up to the US withdrawal, there has been much jostling amongst regional powers, with political parties aiming to "grab what they see as the Afghan pie." Afghanistan's neighbours have had a consistent role and influence on the country.  
  Pakistan, for example, "thinks that it smells victory because the Taliban have been Pakistani proxies," even though the truth is more complex than this. Pakistan have been Afghanistan's staunch ally, with the support for their regime in the 90s. A positive outcome would be for Afghanistan and Pakistan to come to some kind of security pact, which would guaranty inter-governmental serenity. Currently, though, it seems that the Pakistanis think that "they are winning." 
  Iran sees a "major opportunity to strengthen its interests in Afghanistan," given they already have strong working connections with the Taliban. Similarly, China is the largest foreign investor in Afghanistan, yet Afghanistan is gradually becoming a "major national security challenge" for them. It thus seems that Chinese investment in Afghan regions is due to both security and economic interests.  Turkey, meanwhile, appears to be playing a "maverick role" in the support of the Kabul airport, meaning that "they will, at some point, be in direct contact with Taliban." 
  The US redeployment from Afghanistan allows for a reassessment of European foreign and domestic policy. The American means that waves of refugees are going to be pushed towards Europe, resulting in a major challenge for the EU. Regarding counter-terrorism interests, it may now be necessary for the EU to have a "bilateral engagement" with the Afghan government, "moving beyond what they have done in the past." NATO may, potentially, be establishing a training base in Qatar.