NBA champs meet Pope Francis to discuss social justice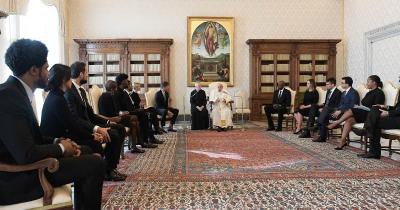 Photo credit: Vatican Media
 VATICAN CITY – Champions of the NBA attended a private audience with Pope Francis, at his request, to discuss their commitment to the fight against social injustice, and their support of the Black Lives Matter movement, religious sources said.
 The basketball 'dream team' of Marco Belinelli, Jonathan Isaac, Sterling Brown, Kyle Korver and Anthony Tolliver, met with the pope Monday in the private library of the Apostolic Palace, to highlight their individual and collective efforts in tackling inequality occurring in their communities.
"You're champions," the pope said. "But also giving the example of teammork, you've become a model, giving that good example of teamwork but always remaining humble ... and preserving your own humanity."
 In the season that ended a few weeks ago, Brown and Korver played for the Milwaukee Bucks, the team that decided not to take to the field in the match against Orlando Magic, in protest of the police shooting of Jacob Blake, a 29-year-old Black man injured by the Kenosha police. The Bucks' decision triggered a series of boycotts not only in the NBA, but also in tennis and other American sports.
 In January 2018, Brown was unlawfully arrested by Milwaukee police for illegally parking across two handicapped spots. The then 22-year-old was thrown to the ground, tasered, stepped on by officers, handcuffed and detained in the Milwaukee County Jail. The violent incident was captured on video. Just recently, the player agreed to a $750,000 settlement in a police brutality lawsuit against the City of Milwaukee and its police department.
 "We are extremely honoured to have had this opportunity to come to the Vatican and share our experiences with Pope Francis," Kyle Korver said in a statement. "His openness and eagerness to discuss these issues was inspiring and a reminder that our work has had a global impact and must continue moving forward."
 The players, who presented the pontiff with a basketball, Orlando Magic jersey and a book documenting their work, were joined by representatives from the NBPA – the union that represents all professional NBA players in the US.
 "This meeting validates the power of our players' voices," NBPA executive director Michele Roberts said in a statement. "That one of the most influential leaders in the world sought to have a conversation with them demonstrates the influence of their platforms. I remain inspired by our players' continued commitment to serve and support our community."
 cc