Bannon's Vatican ally cuts ties over church homosexuality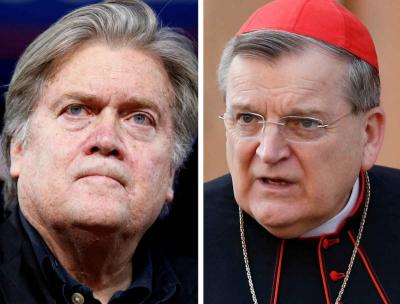 Steve Bannon (left) and Cardinal Burke. Photo credit: Angelusnews
ROME – Cardinal Raymond Burke has severed ties with his once-ally, former White House adviser Steve Bannon, and his institute designed to train future populist leaders. The apparent cause of discontent was Mr. Bannon's desire to make a film about the Vatican's homosexual subculture, according to Inside the Vatican.
 The pair had been close allies, meeting in person in recent years and collaborating over the Dignitatis Humanae Institute, Bannon's "gladiator school" which was meant to instill alt-right values in its students, and where Cardinal Burke had been honorary chairman. (The project is on hold, having been blocked by the Italian government last month.)
 Bannon has often alienated his friends and allies, even those with views as conservative as his own. In the form of the American cardinal, he loses a key partner in the Catholic church. 
 Burke released a statement Tuesday in which emphatically severed relations Bannon and the Institute. The final straw seems to have been a report on conservative LifeSiteNews in which Bannon hinted, among other things, that he wanted to make a film of Frederic Martel's book, "In the Closet of the Vatican."
 The book has been a bestseller since it was published in February. Its subject, the gay subculture of the Vatican, has clearly struck a chord with readers. In the book, Martel identifies an enormous community of gay, but homophobic, priests and other members of the Holy See.  He claims to have spoken to dozens of gay prelates, concluding that the great majority of the officials of the Holy See are gay.
The idea of converting the book into a film was enough for Burke to distance himself considerably from Bannon. "I have never worked with Mr. Bannon in his organisation and am not presently doing so," explained the 70-year-old.
 Bannon also said, in the LifeSiteNews article which has been subsequently taken down, that he believed priests should be able to marry. Burke was clear in his statement: "I disagree completely with a number of Mr. Bannon's statements regarding the doctrine and discipline of the Roman Catholic Church,"
 Burke explained, as he also stood back from Bannon's alt-right Institute, that in recent years the project had become increasingly identified with "the political programme of Mr. Bannon" and had moved away from its "original purpose."
 Bannon's school, set up in the millennium-old monastery in Trisulti, near Frosinone, was intended to teach students how to defend the "Judaeo-Christian West." Bannon, 65, who is a long-time admirer of Italian politics, designed most of the curriculum for the "sovereignty school."
 Burke and Bannon originally bonded over their conservative opposition to Pope Francis. While Bannon's criticisms concerned the Pope's stance on migration, Burke opposed Papa Franceso on doctrinal grounds, including the status of divorced and remarried Catholics. Pope Francis removed Burke as head of the Vatican's Supreme Court in 2014 and he has been repeatedly sidelined since. 
 Bannon, who came to fame as founder of right-wing Breitbart news, has a record of short-lived partnerships. He was named President Donald Trump's Chief Strategist but left a few months later in August 2018. Since then, he has established himself as a promoter of alt-right values around the world. He describes himself as a "Christian Zionist."
gb