Insider View: Conniving with CasaPound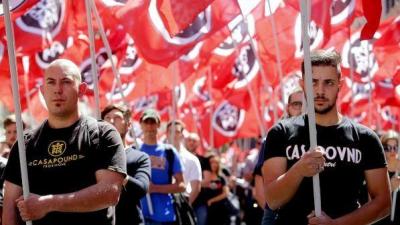 CasaPound rally in Trieste. Photo credit: TG24
ROME - CasaPound were once again at the heart of anti-Roma protests this month, the neo-fascist party continuing to grow ever more prominent in Italian society at the expense of the concomitantly declining voices of opposition.
 Only weeks after they piggy-backed on protests in Torre Maura that saw over 60 Roma evicted from a refuge centre, CasaPound escalated matters yet further in the Casal Bruciato suburb of Rome with members reportedly shouting, "We want to see them hanged and burned," and "I will rape you," at Roma residents.
 The latter revolt occurred just over a week after two CasaPound members were jailed for gang raping a woman in Viterbo, and the frequency with which the party seems to eschew politics in favour of violent transgressions points alarmingly at an inability amongst Italian authorities to curb this far-right tide.
 Police presence, given verbal and physical violence during both demonstrations, has been notably absent. In fact, the most telling show of strength at Casal Bruciato was escorting Rome's mayor Virginia Raggi in and out of the housing complex for fear her safety be at serious risk as previous violence had not been aptly checked.
 Politicians, too, seem either unable or unwilling to stem Casapound's insurgency. Raggi was chastised by deputy prime minister Luigi Di Maio for her show of solidarity with the beleaguered Roma residents in Casal Bruciato, and little is being done to counteract the neo-fascist party other than the odd press release condemning their actions.
 Interior Minister Matteo Salvini seems to turn a blind eye to their misdemeanours altogether, and continues to overlook the CasaPound party members squatting illegally in a building near Termini station. Salvini even chose a CasaPound owned publishing house for his upcoming autobiography.
 CasaPound's misconduct continues to grow more frequent and the government's toothless response pervades. Following this most recent exhibition of the coalition's weakness, one has to wonder whether it will ever take a stand against this flagrant defiance of democratic Italy's traditions of tolerance and humanity.
ea