Ryanair chooses Naples for nine new routes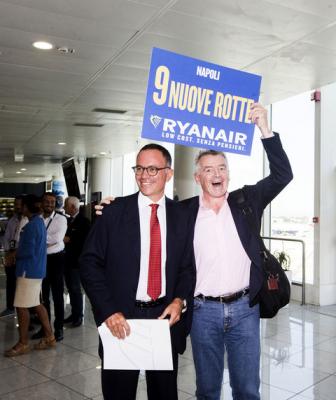 Rayanir's CEO Michael O'Leary
NAPLES- Ryanair plans to attract 500,000 new passengers by 2018 by adding nine new route connections for Capodichino International Airport, Naples. While holding up a flashy sign at a meeting Wednesday morning, CEO Michael O'Leary boasted the latest company expansion, to be added to the 19 destinations already departing from the southern Italian airport.
 
 Estimating a total of two million passengers within 15 months, the Irish low cost airline will now fly to Bologna, Budapest, Brussels Charleroi, Dublin, Cracow, Malta, Porto, Thessaloniki and Wroclaw."What is particularly important for us are the new flights planned for the winter season, confirming Capodichino as key for the Ryanair network," declared Gesac CEO Armando Brunini with satisfaction at the morning meeting. "Even with assured success, we did not imagine we would reach 2 million users so quickly," admits O'Leary.
While the low cost company continues its expansion, rumours of the possible acquisition of Alitalia has also been in the air.
"By October 2, Ryanair will present a bid offer for Alitalia", the CEO communicated just days ago in a press conference at the Bologna airport. "We see a very interesting long-term future for Alitalia. If it were to become part of our group, it would remain separate from Ryanair and continue as a competitor. We do not want to transform it in a low cost company, subsidiary of Ryanair," he affirms, insisting they would keep on most of the pilots, cabin crew and engineers.
Mounting as a possible solution to airline and its economic troubles, the desire to purchase a mere fleet of 90 aircrafts appears as going clearly against the wishes of the Italian government.
Identifying any dismemberment of the former Italian flagship company as unacceptable, commissioners are not in favour of "slicing-up" the company. "Cutting up Alitalia would be a serious mistake and I am saying this as Minister of Culture and Tourism, underlining the position of the government," voiced Dario Franceschini to Sole 24ore. "Besides the value of its property, Alitalia is nonetheless the first glimpse travellers have of the country when arriving from all parts of the world: aircrafts are the first place where people can begin appreciating Italian food, cinema, art, beauty and style. That's why slicing up the company would be a big mistake," he concludes.
In the meantime, Ryanair has also announced it will not bid for any assets of insolvent German airline Air Berlin, calling the process "a stitch-up". Although the Irish company had expressed real interest in the acquisition of the German airline, O'Leary has complained that its bankruptcy was engineered to help strengthen Lufthansa, number one airline in Germany.
"If there were a fair and equal opportunity, we would get involved, but it's a stitch-up" and they are not letting us participate," affirmed the Irish CEO at a news conference in Berlin last month.
While Germany's economy ministry rejects Ryanair's claims that the insolvency was staged, the low cost Irish company has asked German and European anti-trust authorities to probe into what he said was a "conspiracy" between Air Berlin, Lufthansa and the German government which would lead to higher prices for consumers.
F.B.