Tourists flee forest blaze around Vesuvius volcano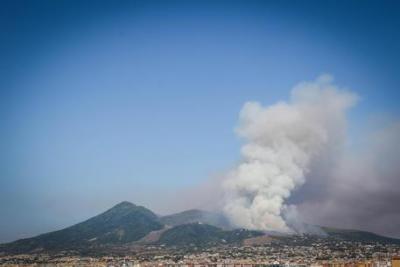 NAPLES - Once again the panoramic view for thousands of tourists who flock to this southern Mediterranean city has been disturbed by smoke visible from a distance of more than 30 km (20 miles). At the feet of the Vesuvius volcano, flames and smoke have caused panic and rage once again, as suspected foul play surrounds yet another fire that has been doubling over the area near Pompeii over the last couple of days.
 The blaze resumed Wednesday in "La Siesta" located in Herculaneum at the base of the active volcano causing local authorities this time to evacuate residents in the area and denying tourists access to the suggestive mountainous formation responsible for the perfectly preserved Pompeii life from 2,000 years ago.
 Hectares of the National park have been destroyed, hotels and residences evacuated and tourists have been escaping the area while firemen, military police and civil defence volunteers race against time trying to tame the flames.
 While the area is hit in the face with devastating economic damage during their long-awaited high season, the flames seem attributable to man's doing.
 Although authorities initially seemed to believe the latest flames surged given high temperatures and wind that helped flare up the abundance of trash and abandoned waste present on the soil, the fire now seems too vast. Separated in several acute hotspots, each far from the one another, make it hard to imagine that the latest fires can be due to unfortunate circumstances.
 Early in the morning, authorities were already hard at work trying to reclaim the ground and extinguish the remaining hotspots.
 Firemen, Forestry officials and representatives from the Campania Region have been working with the Territorial Military Forestry for the Vesuvius National Park and lend a significant hand.
 Civil defence equally sent out two Canadair fire-fighting planes, one from Rome and the other from Lamezia Terme, shuttling back and forth for hours to blast gallons of water into the fire and circumscribe the flames.
 Asphyxiating air from intense smoke billowed from Torre del Greco all the way to Portici. A surreal view from the metropolis seafront led many to wonder whether the calm volcano was starting to act up again, as the smoke rapidly reached 1000 metres above sea level, risking to cut the mount in two parts and trap those who where at the peak.
 After examination of the present emergency plaguing the area in the last hours, mayor of Herculaneum Ciro Buonajuto announced yesterday that the army is coming to preside over Vesuvius.
 jp-fb