Basilica of the Nativity in Bethlehem, 'Restoring the Sky'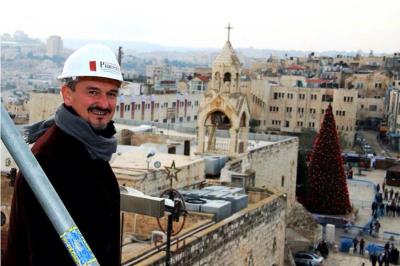 ROME -- Giammarco Piacenti, Chief of the Piacenti Restoration Centre, gave a talk to journalists in the Foreign Press Association Monday regarding the restoration project of the Basilica of the Nativity in Bethlehem, joined by director of the accompanying documentary 'Restoring the Sky,' Tommaso Santi.
 Added to the UNESCO list of World Heritage Sites in 2012, the Basilica of the Nativity unites the three Christian denominations -- Orthodox, Catholics and Armenians.
 Founded in the Constantine era and later reconstructed in the sixth century by the Justinian Emperor, the Basilica has survived throughout the long and turbulent history of Palestine, resisting invasions, wars and conquests.
 Indeed, the structure did survive such testing times, yet inevitably, major damage had been done over the years which required such an intense reconstructive project.
 Piacenti's endeavour started in 2013, working with a team of around 170 to organically restore the cultural masterpiece to its former glory, from the complex roof to each tiny embellishment and decorative detail.
 The undertaking was not an easy feat. Upon tackling the historic structure, a number of previously undiscovered items were found, including a seventh angel to complete the mosaic set which commemorates the birth of Jesus. This prompted an enormous amount of research and study, encompassing a team of specialists and experts in the field of cultural preservation.  
 The full splendour of the project is explored in the documentary, 'Restoring the Sky,' found on VIMEO: https://vimeo.com/175820940 Password: 1234
 For more information on the Piacenti group and the conservation of artistic and cultural heritage, visit: http://www.piacenti.org/la-nativita-di-betlemme-il-restauro/
 sw