Mafia initiation ceremony caught on film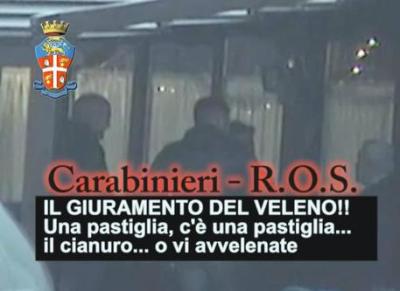 MILAN – A two-year investigation into the 'Ndrangheta organised crime syndicate which culminated in 40 arrests on Tuesday managed to record a notorious "swearing in ceremony" for the first time. 
 The ceremony, which involved the assignment of various tasks to different members of the Mafia, has never before been recorded or observed by the authorities. Witness accounts from former mobsters who later cooperated with the authorities had previously told of the importance of the meetings.
 The surveillance footage unveiled some of the habits of mob members, including coded references to senior members. The names of historical figures associated with the Reunification of Italy in the 19th century were used as code for Mafia members, for example, "Garibaldi" was used to refer to the local clan leader.
 Tuesday's arrests came in a coordinated police sting, with suspects picked up across Lombardy and the neighbouring Veneto region as well as the more notorious Mafia stronghold Sicily. Two suspects have been detained on house arrest while the remaining 38 have been jailed. Their alleged crimes include Mafia association, extortion, and illegal arms possession.
 Milan chief prosecutor Ilda Boccassini described at a press conference on Tuesday the work undertaken by investigators over two years to obtain these arrests. Officers used wire-tapping and secret cameras to obtain the evidence.  
 Amongst those arrested are a number of Mafiosi who had previously been convicted following a major police operation in 1994.