Dante's family battles new Valpolicella inferno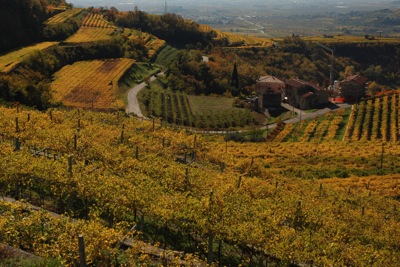 SANT'AMBROGIO DI VALPOLICELLA - Outraged Italian wine producers led by the poet Dante Alighieri's direct descendant are up in arms against plans to build a massive waste re-cycling plant with a 310 ft high chimney in the heart of the idyllic Valpolicella vineyards near Verona , where the grapes for hallowed Amarone wine are nurtured.
 Dante's son Pietro bought the Casal dei Ronchi in Gargano estate at Sant' Ambrogio in Valpolicella in 1353 after his father was exiled to Verona from Florence . The family has cultivated the surrounding vines for 20 generations. Speaking in the courtyard of his sprawling villa above cellars packed with oak and cherry wood barrels of maturing Amarone, Count Pieralvise Serego Alghieri, the current patriarch of Italy's most illustrious genealogical line, said he has no intention of allowing the recycling project planned by owners of a local cement works to upset the delicate ecological balance of the Valpolicella valleys.
 "These are activities that have nothing to do with this area," the count said. "This the only area in Italy where local grapes alone are used to produce five different kinds of wine. We are very lucky to be able to create prosperity from an area of great natural beauty. This is a unique zone that deserves to be protected."
 The ugly Rossi cement plant in Valpolicella's nearby Fumane valley is an eyesore and historical anomaly built in the 1960s when Rome governments encouraged unbridled industrialisation. The cement is made with marlstone, a lime-rich material dug out of nearby quarries, and stored in grim 90 ft high concrete silos. Pierandrea Fiorentini, Rossi's environmental engineer, insists the company's plans to build a 310 ft chimney atop a new furnace that will "cook" industrial waste at temperatures of up to 2000 degrees Celsius to create cement will have no adverse ecological impact on the special Valpolicella  microclimate. Hundreds of lorries trundle through the countryside each week to deliver waste to the plant.
 But Mr Fiorentini insists the planned changes will use no more waste than before but will simply be "more efficient" and environmentally even "an improvement." The company has permission from Verona authorities to recycle 122,000 tonnes of waste a year though so far it has only used as much as 58,000 tonnes, he says.
 Valpolicella's leading wine producers, however, are deeply concerned the new plant could threaten the image of Amarone and other wines in the wake of waste-related scandals in Italy such as the discovery of  dioxin in Mozzarella produced near Naples due to dumping of waste by Mafia-linked companies on land used for grazing by buffalos. The dramatic, related Naples rubbish crisis a year ago, when the streets of the city were littered with trash for months, has underlined Italy's ecological vulnerability to the eco-mafia mob and there are fears that Rossicementi may be positioning itself to import more lucrative waste from Naples or Rome, where waste disposal plants have been severely strained recently – something that Mr Fiorentini strongly denies.
  Joining Count Alighieri in the fray are many of the biggest and most respected of Valpolicella's wine makers including Luca Sartori, the head of the area's wine growing consortium that groups some 200 denomination controlled Valpolicella  Classico producers. The consortium has set up a special committee to study the new recycling plant project and is holding a referendum of members on how to respond to the issue.
 Mr Sartori believes the 100 or so employees working at the cement plant and up to 150 others in related industries such as lorry driving easily could be absorbed in the wine sector if Rossi's owners in Emilia Romagna and Switzerland could be persuaded to move its activities elsewhere.
 Franco Allegrini, a top wine producer credited with making Amarone one of Italy's top exports to the United States and Canada, blames local government in the valleys for failing to stand up to the cement plant and putting at risk Valpolicella's potential.
 "There is a fundamental hypocrisy here," he said. "These local councils were the first to develop differentiated rubbish collection. Cars in some parts of Valpolicella have to carry certificates their engines are catalytic. But we don't know what will happen to 120,000 tonnes of waste being imported and how much damage it could provoke to a future development of wine tourism in Valpolicella, which has so much potential."
Citizens action groups such as FumaneFuturo, founded in January this year, also are opposing the cement magnates' scheme for expansion. Mimi Conti, a Fumanefuturo founder who lives on land in sight of the factory, understandably resents the constant sound of machinery drowning out the natural sounds of the valley.
 Mr Conti says he received death threats from workers at the plant after he organised a public meeting addressed by a cancer specialist on possible health threats from industrial emissions.
 As if the new plant were not enough, Rossicimenti also has applied to the regional government of Veneto to open a new marlstone excavation quarry in a new as yet untouched hill that opponents say is part of a protected natural park. Rossi says it holds existing excavation rights to it. The cement company has replanted vines on large swathes of land it no longer needs after exhausting underlying Marlstone deposits. But local peasants complain that cherry trees, once providing one of the main crops of local farms, no longer bear fruit as before because of omnipresent cement dust.
 "We are at a historic turning point," says Daniele Todesco, the head of another citizens' pressure group, Valpolicella 2000, in the adjoining, pristinely beautiful valley of Marano . "Either the cement plant is closed gradually and we re-launch Valpolicella or we re-launch this kind of heavy industrial business."
 The centre-left mayor of Marano for his part has accused the action groups of spreading alarmism. And many environmentalists accuse local mayors of relying too heavily on tax income from the cement plant. Fumane's centre-right mayor declined a request to discuss the issue with a foreign reporter, saying it would be "inappropriate while studies of the project are ongoing."
 Franco Allegrini, however, believes many local people have become too used to living with the cement works, engendering a dangerous complacency.
   "What attracts tourists here is the Amarone. I want to leave my children this land as I found it or better. I don't want it to be a land of conquest for speculation of different kinds."