Italy again pledges justice for lettori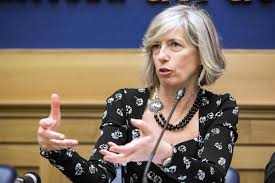 Education Minister Stefania Giannini
ROME—Italy has pledged Matteo Renzi`s Government will end the long-standing problem of racist discrimination against foreign academics at Italian universities.
 Following repeated protests by Britain, a spokesperson for the new Italian Minister for Higher Education, Stefania Giannini, was quoted by the Sunday Times last Sunday as saying that "norms will be changed by a ministerial decree" to remedy unfair pay practices. She was quoted as denying, however, that it ever was a case of discrimination, but rather what she called "a lack of homogeneity due to the autonomy of universities." The statement did not say when the decree will be promulgated.
 Yet accounts from many of the nearly 100 British lecturers affected by the situation have revealed blatant disparities between the respective salaries of Italian and UK academics holding similar posts. The head of the Association of Foreign Lecturers in Italy, David Petrie, who lectures in English at Verona University, reported that his local colleagues were paid almost double his 1.400-euro monthly salary. Many lettori have complained that they have been denied wage increases and promotions, and the same conditions and pension rights as Italian professors.
 Prof. Petrie, who has long been actively making the case against unequal treatment of foreign teaching staff at Italian higher education institutions, compared them to "medieval fiefdoms," run on "medieval cronyism," where many academics boasting years of professional experience earn less than "a newly recruited Italian at the same grade."   
 Despite six judgements issued to date by the European Court of Justice ordering Italian government and academic authorities to abide by EU law and abandon the practice of salary differentiation based on nationality, no measures have been taken by the institutions in question to resolve the issue.
 Several universities were ordered to pay significant sums in compensation to their employees, but many more are still facing law suits from the wronged academics, some of which date as far back as the 1980s.
 The lack of response from Italian authorities to EU directives roused much criticism regarding Brussels' incapability to enforce its rulings. The intervention last week by a UK MEP Emma McClarkin in the European Parliament, in which she tabled a written question to Commissioner László Andor's decision to sanction Switzerland over free movement of workers, while condoning Italy's discrimination of foreign academics, again drew attention to the case, which has now been taken up by UK Europe Minister David Lidington and Universities Minister David Willetts.
 In a letter to Andrew Bridgen, a Conservative MP who got involved in the matter after being contacted by a former constituent, Mr Lidington assured him of the UK authorities' awareness of the problem, stating that "the British government is committed to seeing an end to this discrimination."
 jp-om