Roger Waters receives honorary degree from AUR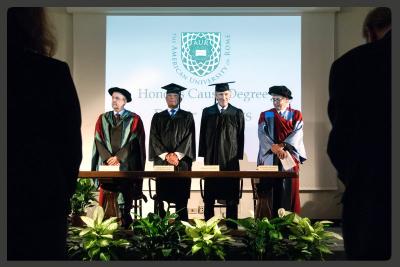 Pictured left to right: Provost Thompson, Chairman Battista, Roger Waters and President Hodges. Photo Credit: AUR
ROME—The American University of Rome presented Roger Waters with a Honoris Causa Degree in recognition of his widespread artistic and social activity.
 An ardent supporter of human rights, the co-founder and leader of the rock band Pink Floyd was awarded for his contribution to music and his work for veteran causes. Accompanied by his wife Laurie Durning, Waters received his honorary degree during a ceremony held at the Istituto Italiano di Studi Germanici in Rome on February 18, before a small audience of AUR students, staff and veterans, including Waters's close friend and Anzio veteran Harry Shindler, recently appointed MBE.
 Earlier that day, the musician attended the commemoration ceremonies for the 70thanniversary of the Allied landings in Anzio, Italy, where his father, Eric Fletcher Waters, fought in the 8th Battalion of the Royal Fusiliers and died as he and his brothers in arms struggled to repel a German counter-attack. Mr Shindler, who also took part in the assault, recently helped Roger Waters discover the scene of the events, locating the spot where Pink Floyd musician's father was killed.
 The ceremony at the Istituto Italiano was followed by a talk given by Waters and a question and answer session, in which he encouraged his audience to "make the world a much better place than it is now", sharing his hopes that the education systems across the globe would contribute to directing students' interest and energy towards discovering the truth about the current issues of the world.
 Answering questions about his artistic and social work, the musician confessed that he felt his work for veteran causes had been the most rewarding of all, meanwhile expressing his belief that countries of the world should "think more critically about the psychological situations they are putting their children in when they ask them to go to war." At the final point of the ceremony, the AUR Veterans Club presented Roger Waters with a Certificate of Appreciation honouring his father's sacrifice in battle and his own ongoing work for the veteran community.