FAO employees sit-in protests reduced remote working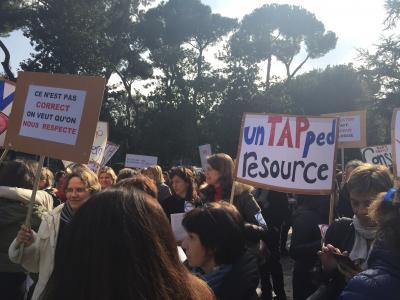 FAO employees protesting job cuts by DG Graziano in 2015
 ROME – FAO staffers and consultants have staged a militant sit-in to protest curbs on remote working imposed by the Chinese director general Qu Dongyu under which they are only allowed to carry out their duties from home one day a week with the other four days necessarily at the office, FAO sources say.
 Hundreds of irate employees filled one of the conference halls in the sprawling headquarters building on Sept. 14 during lunch break to express their displeasure over the new rules, which are seen as discriminating in favour of Italians among the workforce who can use the one day of remote working allowed to mesh with a long week-end of dole vita while instead staffers or consultants whose homes are further afield in Asia or latin America are far less able to make use of the remaining remote day per week, the sources said.
 The sit-in was the first such demonstration in protest by employees against management under the reign of Mr Qu. It recalled a series of protests and strikes that the then far more militant AP in FAO and the union for general service workers staged against job cuts implemented by Jose Graziano Di Silva, the Brazilian DG before Mr Qu was elected six years ago.
  It was unclear who organized the sit-in. Recently a group of consultants made plans for an association of consultants, who now make up 80 percent of employees at the FAO.
 But the sources said that the consultants involved in that putative organization were not involved in staging the sit-in, which had other unknown organisers who spread the word.
 jf
 © COPYRIGHT ITALIAN INSIDER
UNAUTHORISED REPRODUCTION FORBIDDEN