MIA - Almost ready for takeoff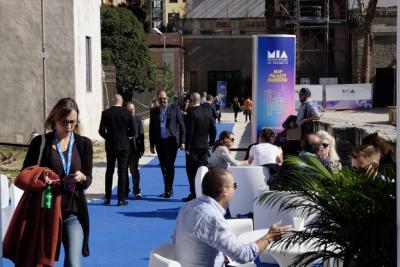 ROME- The International Audiovisual Market -MIA- returns with its 9th edition to be held in Rome from October 9-13, 2023 in its historic venues of Palazzo Barberini and Cinema Barberini. For this edition, MIA Digital platform will be active to allow registered attendees, live and remote, to access all sessions live and on demand. 
 MIA, directed by Gaia Tridente, is the most important industry event in Italy and one of the must-attend international marketplaces. It is focused on co-production, financing strategies and models, sales and distribution, works-in-progress, nurturing talent and project circulation. Born in 2015, and grown thanks to the well-established joint venture between ANICA (Italian Association of Film, Audiovisual and Digital Industries), chaired by Francesco Rutelli, and APA (Italian Audiovisual Producers Association) chaired by Chiara Sbarigia, MIA is possible thanks to the support of the Italian Ministry of Foreign Affairs and International Cooperation, ITA-Italian Trade Agency, with the contribution of Creative Europe MEDIA. MIA is also supported by the Italian Ministry of Culture, the Italian Ministry of Enterprises and Made in Italy, and the Lazio Region. Unicredit is the Official Sponsor. MIA got the patronage of Eurimages, the cultural support fund of the Council of Europe, also for the 2023 edition
Some of the most acclaimed and visionary producers, commissioners, buyers, distributors, executives, financing partners and talents worldwide will be discussing the opportunities and challenges of audio-visual production and distribution in today's international content paradigm. Three women have joined the speaker line-up to be featured in 3 key sessions at the upcoming MIA: Nicole Clemens, Sara Bernstein and Marge Dean. Additional names announced for MIA talks include Ari Folman, award-winning screenwriter, director, producer and animator, known for Waltz With Bashir (Golden Globe award for best foreign language film in 2009), The Congress and Where Is Anne Frank. Nicholas Weinstock, Founder and President of Invention Studios, who developed and produced the Showtime limited series Escape at Dannemora, which was nominated for 12 Emmy Awards, the hit series In the Dark, which ran for 4 seasons on Netflix and, most recently, the Emmy Award-winning Apple+ series Severance. James Townley, Chief Content Officer Development at Banijay, who will give a keynote on the development and creation of unscripted IP and the acquisition of formats and documentaries in the 21 countries around the world where the group has a presence. Additional speakers will be announced in the coming weeks along with the full program of the market.
 Hosted Program
 Thanks to a combined execution of strategic relations at a European level, MIA will host the 2nd edition of Spanish Screenings on Tour, one of the main initiatives of Spanish Screenings XXL, supported through the Recovery, Transformation and Resilience Plan promoted by the Spanish Ministry of Culture and Sports through ICEX España Exportación and Inversiones, the Malaga Festival and the San Sebastian Festival. One of the goals of the initiative is to boost and provide new opportunities for the Iberian audio-visual industry, through its presence in internationally relevant markets, such as MIA.
 MIA Buyers' Club
 MIA's program devoted to international distribution has been completely redesigned to better support the circulation of films, with a focus on theatrical distribution. In addition to screenings of completed films, during the Comin'UP sessions - a new program that offers sales agents an exclusive space where they can present buyers with previews of their films still in the works - exclusive scenes, excerpts or teasers of films that will not be released in theaters until 2024 will be shown. In addition, thanks to the revamped WIP C EU Soon program, European films in post-production and still without an international sales agent will also be shown. To support films and theatrical distribution, the Market Screenings also return: from previews to the latest films just seen at major late-summer festivals, MIA offers sales agents a strategic space for their market screenings.
https://www.facebook.com/MIAMarketRoma/
gn
 © COPYRIGHT ITALIAN INSIDER
UNAUTHORISED REPRODUCTION FORBIDDEN