Gunfire against Italian fishing boat causes Navy to intervene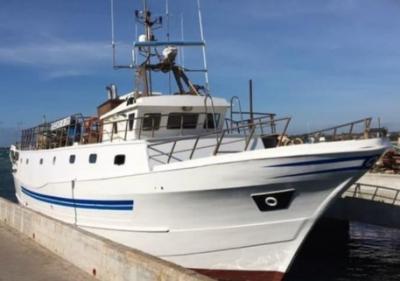 The fishing boat, Orizzonte
 PALERMO - - An Italian fishing boat came under fire from Libyan soldiers after it was accused of being inside the Libyan maritime zone, according to Italian authorities.
 Libyan soldiers were already on board when the incident took place on Tuesday morning. The Italian Ministry of Foreign Affairs also took action. This is just the latest in a string of disputes between the two nations with regards to maritime issues.
 It took the intervention of a navy helicopter to prevent the possible seizure of the boat.
 The Italian embassy in Tripoli also took action with the presidency of the government and the command of the Libyan Coast Guard. 
 It was the president of the Sicilian Shipowners' Federation, Fabio Micalizzi, who reported that in the morning the motor trawler, Orizzonte, had been "attacked in international waters" by "a Libyan patrol boat" that "exploded several machine-gun shots at it", Italian news agency ANSA reports.
 "The crew and the captain of the fishing boat were miraculously able to save themselves, but the vessel is unmanageable" Micalizzi concluded. 
 A request for assistance went out from Orizzonte. The Italian Navy patrol boat, Orione, engaged in fishing surveillance activities in the central Mediterranean, immediately responded. 
 The unit, as soon as it reached a useful distance from the area concerned, sent a helicopter into the air that, upon reaching the area, noted the presence of a Libyan patrol boat near the fishing boat and the presence of some Libyan military personnel on board the fishing vessel.
 At the request of the helicopter personnel, the Libyan military disembarked from the fishing boat and boarded their vessel, which then left the area. Orione is currently providing assistance to the crew of the fishing boat. 
 According to Micalizzi, the fishing boat was at the mercy of the sea due to the rudder breaking, which had been damaged by gunfire. The crew was also having difficulty communicating because the Libyan military allegedly seized their mobile phone cards, ANSA adds.
 Defence Minister Guido Crosetto declared: "I will give due and proper attention to the alarmed appeal of the President of the Region of Sicily, Renato Schifani, who asks my ministry to 'defend the waters off our coasts'. 
 I can however, as of now, reassure him. We do it, as Defence and as the Navy, every day, 24 hours a day. Even today, as soon as a Sicilian fishing boat, Orizzonte, called for assistance due to the presence of a Libyan patrol boat, with some of its crew coming on board the Orizzonte, the Italian Navy intervened in full readiness and efficiency," he finished.
 es
 © COPYRIGHT ITALIAN INSIDER
UNAUTHORISED REPRODUCTION FORBIDDEN