Exhibition dedicated to women of art and science launches at Bilotti Museum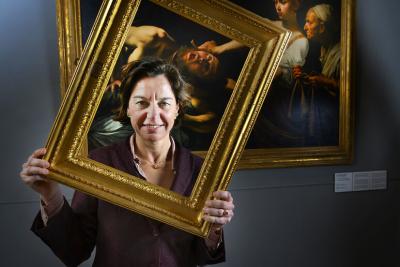 Director of the Barberini-Corsini National Galleries, Flaminia Gennari Santori. Photo: Gerald Bruneau
 ROME - - A portrait exhibition to celebrate women in art and science launched on July 13 as part of the Borghese museums.
 Gerald Bruneau captured the portraits of many art historians and archaeologists for the new exhibition. All of these women are directors of Italian museums and posed in their respective workplaces under his lens. He also photographed mathematicians, astrophysicists and chemists, immortalised in their laboratories. 
 The exhibition "Portraits. Women of art and science" is running from July 13 until Sep 10 at the Bilotti Museum within the Borghese gardens. Forty women, forty professionals in top positions, were photographed by the Frenchman, born in 1947 and active, in the 1970s, at Andy Warhol's Factory. 
 In the exhibition, director of the Barberini-Corsini National Galleries in Rome, Flaminia Gennari Santori plays with a frame and frames her face against the background of Caravaggio's "Judith and Holofernes". 
 Francesca Cappelletti is portrayed while leafing through a historic catalogue of the Galleria Borghese directed by her. Behind her is Caravaggio's "Danae".
 Alfonsina Russo is also captured at work, not in the halls of a museum, but among the bricks and paving stones of the Colosseum Archaeological Park, satisfied showing a container full of archeological finds.
 Works of art, books and exhibits are the daily work tools of an art historian, just as sophisticated computers and scientific instrumentation are for a scientist. Also captured by Bruneau is Maria Cristina de Sanctis, a planetologist, smiling at the target amongst spectral analysis tools used for space missions.
 Similarly, just as Paolo d'Agostino, director of the Bargello Museums, is next to Verrocchio's magnificent "Lady with a bouquet", so Valentina Bambini, a linguistics professor, shows us the sensors used for electroencephalography on the understanding of the verbal metaphor.
 Art and science: all declined in the feminine, because, as Diana Bracco, president of the Bracco Foundation who curated and created the exhibition, explains, "the attentive gaze of women always brings an innovative contribution in terms of creativity, competence, depth."
 On this theme, every woman artist portrayed is called to have her say. Next to each photo, a biography illustrates her professional career and the "three trump cards" which, according to the person depicted, cannot be missing from a woman working in the world of cultural heritage.
 "Self-awareness, empathy, will", replies Evelina De Castro, director of the Palazzo Abatellis in Palermo, home to the Gallery of Art for the Sicilian Region.
 "Calm, firmness, imagination", says Martina Bagnoli, director of the Estense Galleries in Modena. 
 "Women have always been more visionary than men," adds Gennari Santori, "even if they continue to want to convince us of the opposite."
 The exhibition is running at the Bilotti Museum, Viale La Guardia 6, Tue - Fri 1 - 7pm; Sat - Sun 4 -7pm, free admission. 
 es
Photographer Gerald Bruneau
 © COPYRIGHT ITALIAN INSIDER
UNAUTHORISED REPRODUCTION FORBIDDEN