Inoslav Bešker, doyen of former Yugoslav correspondents in Italy, dies at age 73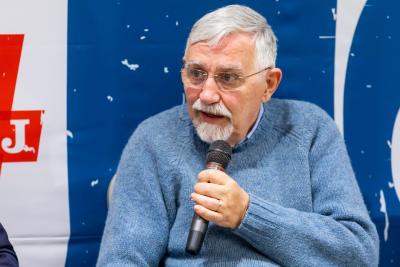 ROME – Respected Croatian journalist, academic and author Inoslav Bešker, one of the last surviving reporters to arrive in Italy from the Balkans as a foreign correspondent with a Yugoslav passport before the break-up of his original homeland, has died after a short illness at age 73, his family said.
 Born in Split in 1950, he spent most of his career in Italy, where he filed dispatches for a constellation of outlets including Jutarnji list, Slobodna Dalmacija, Telegram, Start, Vjesnik, BBC, and Radio 101.
 He arrived in Rome in 1980 as a young correspondent for Vjesnik in time to report on the May 13, 1981, assassination attempt on Pope John Paul II by Turkish gunman Mehmet Ali Agca, making a name for himself as a Vatican correspondent, writing several books on the Roman Catholic Church and its history in Croatia, including breaking controversial ground on the shadowy links between the Church at the local level and the Croatian Ustacja fascist regime during the second World War.
 Besker also taught Croatian studies at the University of Split and was a lecturer in Slavic studies at Naples Oriental university and at the la Sapienza and Bologna universities. At Zagreb University he taught investigative journalism. 
 A genial, generous man with a dry sense of humour who always had time to help his colleagues, Inoslav is survived by his wife Mirjana and their daughters Neva, Lada i Nuša.
 jp
 © COPYRIGHT ITALIAN INSIDER
UNAUTHORISED REPRODUCTION FORBIDDEN