New exhibition by Guildor 'Dialogue Window' to open in Milan investigating 'technology and human behaviour'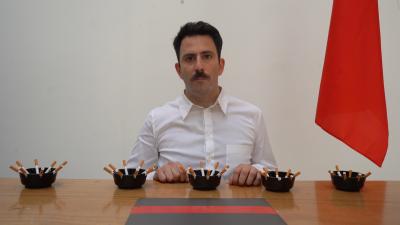 Guildor, Letters to Adecco, 2019
 ROME – From June 7 to June 30 2023, Careof presents the exhibition 'Finestre di dialogo' by the artist Guildor, curated by Marta Bianchi and Marta Cereda, with a textual contribution by Federico Nejrotti. Always interested in investigating technology as a reflection of human behaviour, with "Dialogue Windows" Guildor examines the relationship between user and platform and the economic system that the exploitation of digital data has helped to generate. 
 "Windows of Dialogue" is part of V-Data (vdataresearch.com), a multi-year research project developed by a team of researchers from the University of Pavia, the University of Milan Bicocca and the Università Cattolica del Sacro Cuore of Milan, with the contribution of Fondazione Cariplo, aimed at investigating the awareness and opinions of citizens living in Italy on the processes of extraction and exploitation of digital data, typical of surveillance capitalism.
 On June 6, on the occasion of the exhibition opening, Guildor will present an unprecedented performance entitled "The fortune biscuits I order with Glovo are strangely accurate," which investigates the ways in which digital platforms infiltrate our relationships and appropriate our emotions, turning them into a tool for profit.
 Inspired by the book "The Age of Surveillance Capitalism" by Susanna Zuboff and the work of V-Data, the performance will be studied by V-Data researchers who will observe the reactions of those who witness it and collect impressions and comments through informal interviews. The research will be a tool to further engage the audience on the issues under consideration and to collect data complementary to the work already done in V-Data.
 During the performance, the artist will unwrap and eat forty fortune biscuits, reading to the audience the messages they hold, i.e. short reflections that highlight, with bitter humour, the symbiotic and alienating relationship we have today with technology and its tools.
 The exhibition presents a series of new productions and recent works that address, through different languages and media, the themes of the use of private data by large multinationals, the impact of technological mediation on our relationships, and the unbalanced relationship between platforms and users.  
 Among these, the work "At the speed of feelings" highlights how emotional response has become the main driver of online communication, pushed to the extreme by social media. It is made up of five screens on which video portraits of five subjects are scrolling in a loop, intent on apathetically chewing coloured chewing gum, punctuated by the sound of typing on a smartphone keyboard, and popping balloons in their faces at the sound of a joyful notification.   
 By investigating the relationship between technology and the human being and their many points of contact, "Dialogue Windows" intends to awaken public awareness on the theme of surveillance capitalism, to understand how its mechanisms have encompassed us and how it is possible to try and counteract them, starting by becoming aware of them.
Location - Careof, Fabbrica del Vapore, Via Procaccini 4, Milano
 Opening: Tuesday June 6 2023, 7 p.m.
 Performance: Tuesday June 6 2023, 7.30 pm
 Talk: Thursday June 22, 7 pm
 For more information: https://vdataresearch.com
 eb
 © COPYRIGHT ITALIAN INSIDER
UNAUTHORISED REPRODUCTION FORBIDDEN