Napoli's Georgian star says "Kvaradona" is his favourite nickname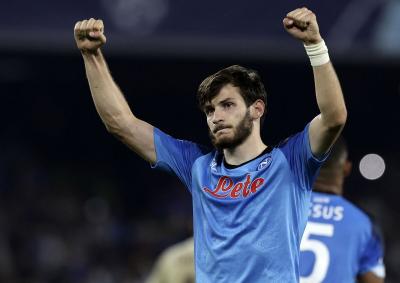 TBLISI - The young Georgian football star has revealed his special nickname. Khvicha Kvaratskhelia has been in Naples for almost a year and they are already calling him "Kvaradona."  "All nicknames are beautiful …, but obviously even a small part of the name Maradona mixed with mine… fills me with pride, so Kvaradona is definitely my favourite," the Napoli star said.
 Kvaratskhelia, the Georgian winger of the Italian club Napoli, was named the Serie A Player of the Month for March for the second time in a row and for the third time in the same season, setting a new all-time record in the history of the championship.
 The Georgian footballer has already scored 14 goals and made 16 assists in his games so far this season, majorly impacting his club's performances. SSC Napoli claimed their first Serie A title in 33 years this year.
 At the press conference, Khvicha was asked who his football idol was and why he chose the number 77, and his answer was Cristiano Ronaldo.
 "My inspiration is Cristiano Ronaldo, as a kid I was his fan and because of him I like to play on the left wing. The number 7 is my favourite. The number was not available in the club, so I chose 77, which will bring me double luck," Khvicha said.
 Kvaratskhelia represents the link between two cultures, Georgia and Italy: in the space of a few months Georgian fans started to follow him everywhere. The Georgian airline company started operating charter flights directly from Tbilisi to Naples. While playing at the "Maradona" stadium, group of hundreds of people encouraged him with Georgian flags from the stands.
 Fans from Naples also keep astounding the footballer. A fan of the club even named their new born child Khvicha. Making the child the first new born with that name in Italy. The infant was born on March 31 at the Clinica Santa Patrizia di Secondigliano.
 The news quickly made its way through city, although few are surprised. It is reminiscent of Maradona's time, when Neapolitan parents were naming their children Diego.
 rd
 © COPYRIGHT ITALIAN INSIDER
UNAUTHORISED REPRODUCTION FORBIDDEN