Ukraine President Zelensky meeting Pope Francis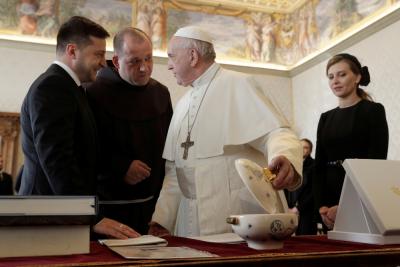 Pope Francis exchanges gifts with Ukrainian President Volodymyr Zelensky during a private audience at the Vatican in February 2020
Vatican City– Ukrainian President Volodymyr Zelensky is expected to meet Pope Francis in the Vatican on Saturday, after meeting Italian governement officials according to both diplomatic and Vatican officials. 
 The meeting has not been officially declared by either the Ukrainian government or the Vatican but is said to take place this weekend according to Ansa, no more than two weeks after the pope revealed the Vatican's involvement in a 'secret' peace mission to try to end the conflict between Russia and Ukraine and after he expressed his solidarity with the 'martyred' Ukrainian people after Ukraine became the scene of the bloodiest ground combat in Europe since World War Two. 
 On Sunday, Zelensky and the people of Ukraine are set to receive the International Charlemagne Prize, awarded annually in Aachen West- Germany, for contributions to European unity. At the Ceremony, European Commission President Ursula von der Leyen is scheduled to give the speech honoring Zelensky and the Ukrainian people. 
This would not be the first time that Zelensky meets the Bishop of Rome as he had met with the Ukrainian Prime Minister previous to the war and last month when Zelensky asked the pontiff's help in mediating the return of Ukrainian children taken by the Russian Army after the Kremlin's invasion. Francis recently told reporters he thought the Vatican could help, given its previous mediation in prisoner swaps.
 Unnamed sources have alluded that the meeting is set as Ukraine launched a counter-offensive against the Russian army with invading forces supposedly being in retreat near the besieged city of Bakhmut, but the actual reason for the rumored meeting has not yet been confirmed.
sz
 © COPYRIGHT ITALIAN INSIDER
UNAUTHORISED REPRODUCTION FORBIDDEN