Biden chooses new Italy's American ambassador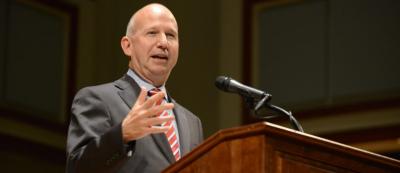 ROME -- US President Joe Biden has chosen Jack Markell as the new American ambassador to Italy. 
  Markell, 62, is the current US ambassador of the Organisation and Economic Co-Operation and Development (OECD) and served as the state of Delaware's governor for eight years. According to ANSA, he is "trusted by the president."
 The new ambassador will fill the role that has been empty for two years since former ambassador Lewis Eisenberg completed his mandate in Jan. 2021 following Donald Trump's exit from office.
 Since then, the US has been represented in Italy by charge d'affaires Shawn Crowley. It was rumored that former Democratic Speaker of the House Nancy Pelosi would fulfill the roll after an expected Democratic defeat following the Midterm elections. 
  It is expected for the Senate to confirm Markell as he was swifly approved for his role as US ambassador of the OECD. However, Biden's pick has yet to pass Congress, and Markell may not be confirmed in time for Italian Prime Minister Giorgia Meloni's visit the White House, which is expected to happen before the summer. 
 Markell is married and has two childen. He holds a Master's degree in Business Administration, and he worked in management until his political career began in 1999. He was treasurer of Delaware from 1999 until 2009, and then served as the state's first Jewish governer from 2009 until 2017. 
 jd
 © COPYRIGHT ITALIAN INSIDER
UNAUTHORISED REPRODUCTION FORBIDDEN