Pope to go to Bahrain for Asian bishops' conference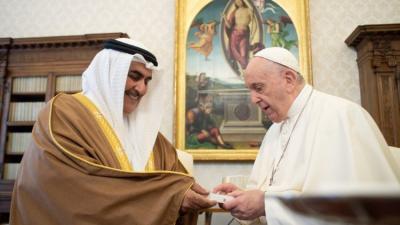 Pope Francis meets with ambassador to the Kingdom of Bahrain
 VATICAN CITY – Pope Francis will travel to Bharain next week to attend the general asian bishops. conference, the Vatican said Thursday.
 The Kingdom of Bahrain ambassador, Muhammad Abdul Ghaffar, wrote to the pontiff expressing his "excitement" to invite the Special Envoy to attend the closing of the FABC that was recently held in Bangkok. The Bahrain ambassador expressed his desire for Francis to greet and bless the authorities attending. 
 The Holy See press report included information regarding the pope's journey to Bahrain from Nov. 3 to 6.
 jp-gs
 © COPYRIGHT ITALIAN INSIDER
UNAUTHORISED REPRODUCTION FORBIDDEN