Laugher and Harding take European springboard gold as Williams and Cutmore score a British 2-3 in the platform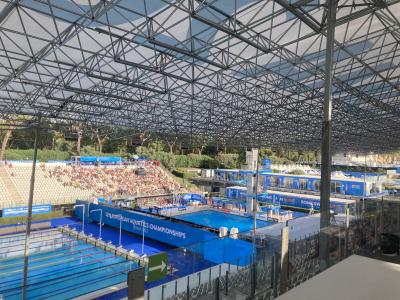 Team GB added a gold, silver and bronze to their impressive medal haul in the Foro Italico pool at Rome 2022
ROME – Team GB rounded off the 2022 European Aquatics Championships in style by winning three medals on the final day of the competition.
 Jack Laugher and Anthony Harding teamed up to take gold in the 3m synchronised springboard event, while Noah Williams and Ben Cutmore won silver and bronze respectively in the final event of the meet – the men's platform.
 Rome 2022 becomes the most successful European Championship performance in Team GB diving history with six golds, three silvers and three bronze won in the Foro Italico pool.
 In the 3m synchronised springboard, Laugher and Harding were very consistent in every round to score 332.10 and edge out Italian pair Lorenzo Marsaglia and Giovanni Tocci into silver on 324.37. The Ukrainians Oleksandr Horshkovozov and Oleh Kolodiy claimed bronze with 310.95.
 Speaking to the Insider after the win the pair were buzzing.
 Harding said that "I am really happy with my performance today. It could have been a little better but after the training before the event, where I had kind of struggled to know where I was and see the spot in the water, I found my spot and it worked out."
 Laugher added that "we're really proud. It's our first year together and we knew how good we were. When we train at home we can see how good we are. We've got the videos from the coaches and the video feedback. We know we can do fantastic things but it's really important to go out there a show it.
 "We are a new pair for the judges to see but the world is definitely talking about us, which is exciting and we backed it up three times with three medals. We were so close to gold at the World Championships and then winning two golds at the Commonwealths and Europeans, we cannot be disappointed. Its' been an absolutely fantastic year and one we will look back on in years to come with very fond memories."
 In the final event of the Championships there was double British delight with a silver and bronze medal in the men's platform. Noah Williams finished with 459.00 to finish second and Ben Cutmore also finished on the podium, scoring 438.35 to claim bronze.
 For Williams it was the perfect way to round off the European Championships.
 "I'm really happy to round off the final competition of the season. it's been a long season. Probably my most successful, but it has been hard mentally and I'm glad to have got through it and end on a high result.
 "It's not easy going from major to major to major this year which is pretty abnormal. My sights were mainly set on the World Championships and after doing well there my motivation didn't dip. At the Commonwealth Games because it was a home crowd that really did help me and then I knew it was one final push to this competition. It was difficult but I managed it."
 Speaking to the Insider, Cutmore revealed that he hadn't even been expecting to compete in the individual event before the tournament.
 "I didn't know I was doing the individual event until last week. Up until that point I had only been training my synchro dives. So, to get in the pool this week and retrain my other dives was quite dauting at first but once I got acclimatised to the pool and the conditions I was feeling confident. I was going out there today to just have a blast and that's exactly what I did.
 "It's something that I wanted to do but it's something that I never thought I'd be able to do so early on in my career so I'm really happy with that."
 On the final day of competition Team GB climbed to second in the overall medals table to round off an excellent 2022 European Championships in Rome, finishing with ten golds, eight silvers and nine bronzes.
 © COPYRIGHT ITALIAN INSIDER
UNAUTHORISED REPRODUCTION FORBIDDEN