Opinion: Spanish PM attempts to sell 'Mediterranean vision' to Italy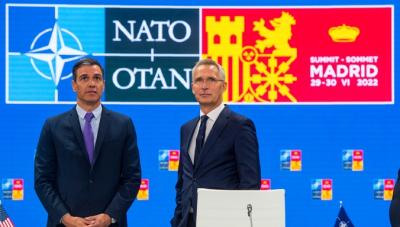 Spanish PM, Pedro Sanchez (right) with Secretary General, Jens Stoltenberg at NATO summit
MADRID - The holding of the NATO summit gave the Spanish Prime Minister, Pedro Sanchez, the opportunity to warn against the multiple risks of the Mediterranean and to try to rally other players in the region, specifically Italy.
 "It's time for the Alliance to recognize the risk factors coming from our southern flank in a 360-degree strategy," he said in a joint statement with U.S. President Joe Biden at the United States, after their meeting at the Moncloa Palace.
"Hunger, drought, climate change can all become contributory causes of instability," he added. "Not to mention jihadist terrorism, which remains a concrete threat, although less feared than in the past."
 Behind the scenes, we are told, there was a lot of talk about energy supplies and the pernicious role played by some of the countries on the southern flank.
 In short, the socialist leader spoke a lot during this summit of the southern shore, this enlarged Mediterranean, where North Africa, the Sahel, the Middle East, the Horn of Africa, should be at the heart of the attention of NATO strategists.
 However, an Italian journalist tells us that this southern flank, the object of all the concerns today, was not consulted before the Libyan war and remains the region which suffered the most from the consequences of the war, as reckless as it was devastating, both by the surge of terrorists from all over the planet "civilising" this poor country , than by the millions of sub-Saharans fleeing poverty and new missionaries, of the Boko Haram type, and many others.
 Faced with these risks, Pedro Sanchez should know that a certain international community has long since exhausted its cards, continuing to interpret the law and its resolutions as it sees fit, with great contempt for the peoples' struggle and their right to freedom.
 His recent decision to support the logic of the fait accompli in Western Sahara, in total violation of the very recent commitments of his country, shows him to be hardly credible when he tries his hand at the role of maker of peace and stability.
 Moreover, the Italian press, which has come to know the ins and outs of the various sources of risk in recent years in this "extended Mediterranean", have chosen to ignore the matter.
 One example among many others, the news agency Il Fatto Quotidiano, close to the Five Star Movement, had returned to the contradictions that accompanied Pedro Sanchez during this summit, highlighted the recurring failures of the recent past and the need felt by the people of the two shores of the Mediterranean, for a new dynamic, far from the double standards of the current one.
mr-al
 © COPYRIGHT ITALIAN INSIDER
UNAUTHORISED REPRODUCTION FORBIDDEN