SADC Ambassadors commit to support WFP's efforts towards the fight against hunger in Southern Africa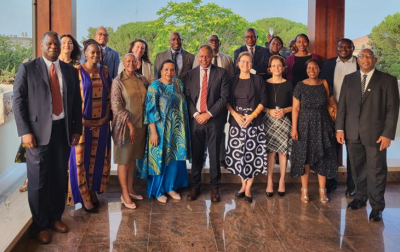 ROME - The Southern African Development Community (SADC) Ambassadors to Italy, led by Mr. Thesele Maseribane, Coordinator of SADC Ambassadors in Rome, and United Nations World Food Programme's (WFP) Regional Director for Southern Africa, Mr. Menghestab Haile, held a roundtable table to discussion food security issues in Southern Africa on Friday.
 The round table discussion followed the presentation of WFP operations in Southern Africa to the WFP Executive Board, and the approval of Country Strategic Plans 2022 – 2027, for Mozambique, Tanzania, and Zimbabwe.
 The SADC Ambassadors highlighted that the challenges faced by Southern Africa with regards to food security, require a people-centred rural transformation approach based on equity and inclusiveness. H.E Maseribane called for more developmental initiatives towards long-term transformative rural initiatives. "The vulnerability of the region to multiple shocks such as cyclones, floods and droughts, illustrates that short-term emergency interventions are critical to save lives, but they are unable to address long-term chronic food and nutrition insecurity," H.E Maseribane said. 
 SADC Ambassadors thanked WFP for its efforts to address the food and nutrition insecurity challenges in the Southern Africa and welcomed the Regional Director's approach towards strengthening engagements with national governments, SADC, and African Union. The Ambassadors encouraged WFP to continue to support rural transformation and assist in creating market for the produce of the rural people to ensure hunger and poverty alleviation. "Food is a basic right, yet the poorest people in the world spend more than half of their income on food. When crisis strikes, food insecurity forces people to deplete their natural resources, and reduce their investment in the future, including health and education,"said H.E Maseribane. 
 The Ambassadors reiterated the need to implement the African Union Development Agency – NEPAD's Rural Futures Programme and Kinshasa Declaration on Rural Transformation, to elevate the status of rural areas through facilitating new for the reduction of rural poverty and inequality.
 WFP Regional Director for Southern Africa informed the Ambassadors that WFP is working closely with African Union Development Agency-NEPAD, and SADC to promote innovative actions and will be launching strategic flagship interventions that will serve as models for rural transformation across Africa. "WFP will align, plan, and innovate in collaboration with the governments in the region and regional bodies towards the realisation of food security and nutrition in the region and beyond."
 Mr. Haile shared with the Ambassadors that WFP is in discussions with AfreximBank, and African Continental Free Trade Area (AfCFTA) Secretariat to harmonise their efforts for the promotion of trade and investment flows in African agricultural sector, to capacitate smallholder and other commercial farming, agro-processing, and in related areas across the agricultural value chain, with a special focus on smallholder farmer 
 The Ambassadors welcomed this approach and expressed appreciation of the steps being taken by WFP and encouraged to keep the Ambassadors abreast of new developments and committed to support WFP's efforts towards the fight against hunger and speedy rural transformation in Southern Africa.
 © COPYRIGHT ITALIAN INSIDER
UNAUTHORISED REPRODUCTION FORBIDDEN