Poland to buy 32 AW149 helicopters for some 1.1 bln euros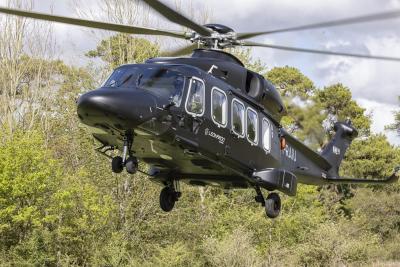 MILAN – Poland has reached an agreement to buy as many as 32 AW149 helicopters from the Italian defence giant Leonardo in a deal estimated to be worth up to some 1.1 billion euros, Polish officials and industry sources say.
The Polish Defense Minister, Mariusz Blaszczak, said earlier this month that "in the near future" Warsaw was planning to sign a contracts for minesweepers, ZSSW remotely controlled turret systems, AW149 multi-task support helicopters and two observation satellites.
The AW149 is a latest-generation medium multi-mission military helicopter devoted to perform transport tasks, battlefield support, combat and sea rescue and command machines produced by Leonardo.
The Leonardo's helicopters are capable of carrying 12 fully equipped soldiers with a maximum speed of 310 kph and a range of 800 km and flight autonomy of four hours. The aircraft will be built at the plant of Leonardo's local Polish subsidiary in PZL Swidnik.
 Blaszczak did not disclose the value of the contract but Banca Akros quoted by Milano Finanza estimated it will be worth some 1.1 billion euros.
 Jp-ak
 © COPYRIGHT ITALIAN INSIDER
UNAUTHORISED REPRODUCTION FORBIDDEN