Pope Francis 'considering resignation by year end'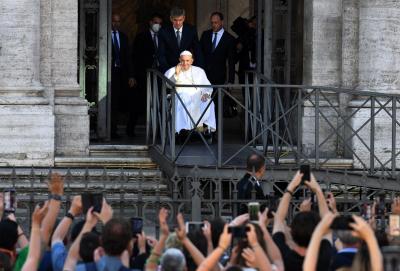 Pope Francis, seated in a wheelchair, waves to pilgrims as he leaves St Mary Major Basilica after presiding over the Rosary for peace in Ukraine and end to wars worldwide. PHOTO CREDIT: ERIC VANDEVILLE
 VATICAN CITY -- Pope Francis, frustrated by ill health that led him to cancel a July trip to Africa, is considering resigning from St. Peter's throne by the end of this year, one of the most informed commentators on the Vatican says.
 Speculation has been rife for weeks that Francis, 85, might step down from the papacy after he appeared in a wheelchair in public in recent weeks, due to a knee problem preventing him walking. Francis also called a meeting cardinals for late August when pontiffs usually lie low because of the summer heat, to discuss the reform of the Roman Curia, the central government of the Church. 
 The Argentine pope in addition has arranged a pastoral visit Aug. 28 to L'Aquila and the tomb of Pope Celestine V, the first pontiff to have resigned from the papacy, in the 13th century. Pope Benedict also visited Celestine's tomb a short time before he resigned, prompting the Conclave at which Francis was elected nine years ago.  
 Most Vatican watchers have preferred not to stick their necks out on a possible resignation, generating a constellation of ho hum articles with cautious pundits quoting each other, throwing in both those who think Francis might possibly quit and others who think he won't. 
 However one of the best informed Vatican experts in the press corps of the Holy See, the longtime correspondent for a major Catholic magazine, told the Italian Insider the pope is evidently planning a surprise in coming months.
 "Francis knows that as a pope he can't function in a wheelchair because he can't travel." said the respected commentator. 
 "On the other hand he is concerned that if he has an operation to replace his knee he will be out of action for several months and mentally may not be able to re-adjust to the hectic papal schedule."
 "The solution he is mulling could be to announce his resignation several months ahead of stepping down, providing time for a broader selection process of his successor, not confined to cardinals. We could see something like US presidential primaries at the synod level before a conclave."
  After the Consistory that Francis has called for Aug.27, as many as 83 cardinals will have been appointed by the Argentine leader of the Church, ensuring that whoever succeeds him is likely to share his vision of Catholicism.
  "Francis is considering passing the baton to a younger man with the energy to realize his vision of the future of the Church," the respected commentator said. 
 jp 
 © COPYRIGHT ITALIAN INSIDER
UNAUTHORISED REPRODUCTION FORBIDDEN