Cambridge academics 'cooperate' on Regeni murder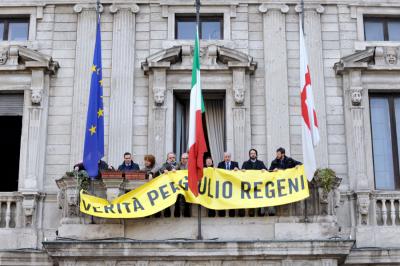 'Truth for Giulio Regeni', banner reads
 ROME -The parliamentary commission of inquiry into the brutal murder of Giulio Regeni has interviewed Professor Maha Abdelrahman, the Cambridge supervisor of the Italian student's doctoral research, commission sources said Wednesday. The hearing took place in Cambridge, where a delegation was meeting the academic authorities and teachers of the young man who was tortured to death in Cairo by Egyptian secret service agents while carrying out research for his Ph.D course at the university.
  The commissioners also quizzed on Tuesday the Rector of Cambridge University, Professor Stephen J. Toope, and other university authorities. The commissioners were able to investigate Regeni's academic activity, the actions taken upon the news of the student's death and the subsequent phases of collaboration with the Italian authorities.
 The delegation - which includes the president of the commission, Erasmo Palazzotto, Lia Quartapelle, Massimo Ungaro and Roberto Turri - "confirmed that the university showed full willingness to cooperate with the inquiry," Il Fatto Quotidiano said.
 After meetings at the House of Commons and the Foreign Office Wedensday, the commission will produce a final report.
  No details of Prof. Abdelrahman's remarks on the case were immediately disclosed. In the past she and other Cambridge academics who taught Regeni as well as the university as a whole were criticised harshly by Italian authorities and investigators for declining to cooperate in Italian investigation of the affair.
 The last hearing of the inquiry is Thursday with the Italian Foreign Minister, Luigi Di Maio, for "an overall update on the Italian-Egyptian bilateral relations" in the light of the latest developments on the case. Italian prosecutors have indicted several Egyptian secret police offiers for the murder and their trial will be held in absentia but Italy has stopped short of more severe diplomatic sanctions against Egypt for fear of jeopardising lucrative energy contracts in Egypt obtained by the ENI energy giant, diplomatic sources say.
  jp-ln
 © COPYRIGHT ITALIAN INSIDER
UNAUTHORISED REPRODUCTION FORBIDDEN