Russian "checkmate" stealth warplane unveiled at aviation show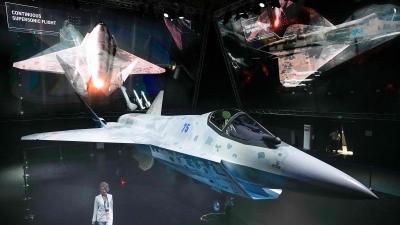 Russia's secret Checkmate fighter
  MOSCOW -- The 15th International Aviation and Space Salon MAKS 2021- the first international airshow since the start of the pandemic- was held on July 20-25  in Zhukovsky, southeast of Moscow. The five-day event is a platform for the Russian defense industry to showcase its latest products, including a latest new fighter jet this year welcoming more than 140,000 participants and guests, officials say.
 According to the administration of the event, 831 companies from 56 world nations took part in the aerospace show. And more than 135,000 people visited the MAKS 2021 over the six days of its work, a spokesman for the aerospace show's administration said. The leaders of Russian aerospace industry and the world's largest manufacturers presented their products on an area of 105,000 square meters in the pavilions, outdoor areas and aircraft aprons.
 MAKS 2021 was officially opened by Russian President Vladimir Putin. In his welcome speech for the participants and guests of the air show Putin emphasized that MAKS fully meets its high international status despite the difficulties caused by the coronavirus pandemic.
 The Russian President emphasized that "Russia is certainly open to cooperation in the field of aviation and astronautics with all countries." Putin praised the deadly new products presented at the show.
 "Everything that we can see in Zhukovsky today shows vividly that Russian aviation has an impressive development potential, and that the national aircraft industry continues to create new competitive aviation products," he said. - Russian air carriers are acquiring modern Superjet airliners. The brand-new MC-21 passenger airliner is to start flying soon, officials say.
 Russia showed off the state-of-the-art Checkmate light tactical fifth-generation fighter jet during the air show. President Vladimir Putin inspected the prototype of new aircraft. The aircraft has a supersonic speed capability with low radar signature.
The unveiling of the light, single-engine aircraft comes amid the country's current work on the Su-57. The warplane, given the project name "Checkmate", is likely to be touted as a rival to the U.S. F-35 stealth fighter, said Oleg Panteleyev, head of the Aviaport analytical agency.
The warplane is expected to take to the skies in 2023 with a first batch due to be produced in 2026, Yury Slyusar, head of the United Aircraft Corporation told reporters.
 The exhibits represent 538 Russian companies and 91 foreign participants from 20 countries. More than 1000 square meters were offered for national expositions of Belgium, Germany, Iran, Canada, the Republic of Belarus France and the Czech Republic.  The partner country of MAKS-2021 was the Republic of Kazakhstan.
 MAKS 2021, one of the world's top three air shows,  has been held every two years since 1993, alternating with the previous International Aerospace Exhibition ILA in Berlin and in competition with the Paris Air Show.
 Aleksandr Sotnichenko, the Russian Culture and Science Center President, made an interview with Turkish journalist and writer Didem Kuzu after MAKS 2021. 
 jp-str