Nightclubs to reopen with the requirement of the Green pass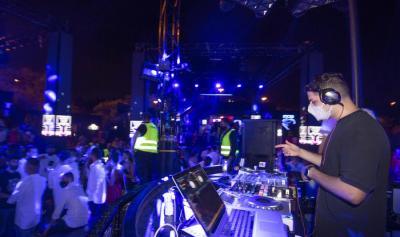 ROME - the government has given the 'go-ahead' to allowing disco-goers to return to the dance floor. A new stage is starting: if you are vaccinated, and have a Green pass, you will have more freedom than those who have refused the injection. 
  To be able to enter the nightclubs you need to present your Green pass, the certification of the vaccine that is downloadable on smartphones, for Italians who have been immunised. It can also be obtained by taking a Covid antigenic test. Managers will verify the certificate upon entering. However, face masks will only be advised, rather than enforced, not because they are necessary, but because it could be unrealistic to be obliged to wear it when the controls and the sanitising of a crowded dance floor would not be applicable. The decision is still yet to be finalised. 
  Even the minister of health, Roberto Speranza, accepts the reopening of clubs, since they have been shut since the very beginning of the pandemic. The  undersecretary of health, Andrea Costa, has fixed a date for the "opening" as July 10th. He said: "within the first ten days of July nightclubs will be able to open and I think that the Green pass criteria can be applied. I have just had a meeting about this with minister Speranza. This week we will indicate a date on which the nightclubs can return to their business, because this is the only that has remained without a prospect and I think that it is a political duty to give an answer."
  In San Marino, not far from the traditional party-destinations of Rimini and Riccione, a 'Covid free' nightclub, which was outside, has welcomed 2,700 of the young. Those who wanted to enter had to show a form of certification, whether that be the vaccine, to have already had Covid or to have tested negative for Covid 48 hours before hand. Dancing lasted until five in the morning. According to the organisers, the "results were encouraging."
  The owner of the "Musica di Riccione" club and of two other bars, Tito Pinton, has since commented that: "we can also reopen in Italy. At the moment no cases have come about and none of my employees are now positive. If we don't reopen I will be forced to replicate San Marino, despite the fact that I have three mars in Italy, where we are able to reopen. The problem, however, is political: now we are considered plague spreaders."
  Maurizio Pasca, president of "Slib" (dance clubs union) has  asked to expect the reopening on July 4th: "moving forward would be unsustainable, we expect common sense. The government shall not make us loose the first weekend of July."               
  Looking at the Covid situation more generally, from July, 80 per cent of injections will depend on American suppliers. Up until now, 67 per cent of vaccine doses delivered to Italy are from Pfizer-BioNTech and 19 per cent are AstraZeneca. Nearly 47,000,000 vaccine doses have been administered in Italy, so far.
  There have recently been several instances of minors, from Arezzo, Florence and Grosseto, who are suing their 'no-vax' parents. Gianni Baldani, president of Ami Toscana has said that these cases represent "only the top of the iceberg. The boy from Florence, in particular, made us note that his other classmates were in the same position. The phenomenon is spread throughout all of Italy. Not all those that face this type of problem, however, would succeed in contacting a lawyer."
  Rosangela Martucci Zecca, president of AMI Bari, has underlined the different points of view, regarding moving forward from the virus, between children and their parents: "parents have fears that their children don't understand. The young see the vaccine as fundamental if life is to return to normal: going out, travellling, going to nightclubs; in other words, doing what they have missed out on over these months. The young are interested in understanding their rights and they should be informed also about those that they have in relation to the pandemic and vaccines."