DFDS brings together businesswomen from Turkey and Italy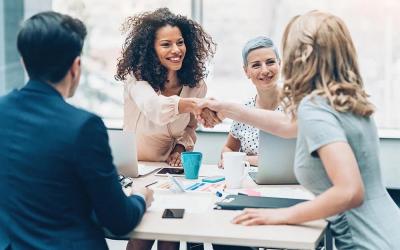 TRIESTE - About 80 businesswomen from Turkey and Italy came together in a digital B2B meeting led by the Friuli Venezia Giulia delegation of the Association of Italian Female Entrepreneurs (AIDDA) and the Women Entrepreneurs Association of Turkey (KAGİDER) and sponsored by DFDS Mediterranean Business Unit. The meeting was hosted by the National Head of AIDDA, Antonella Giachetti; Head of the Friuli Venezia Giulia Delegation, Lilli Samer; KAGİDER Chairwoman, Emine Erdem; and DFDS Mediterranean Business Unit Director of Corporate Communication, Özlem Dalga. 
  Organized to foster cooperation between entrepreneur women, the event brought together entrepreneurs from different industries including food and beverage, textile, production, tourism, hospitality and service sector. In the event, 40 female entrepreneurs from Italy and Turkey each discussed cooperation and new opportunities. 
  Building the post-pandemic period
  Delivering the inaugural speech of the event, the National Head of AIDDA, Antonella Giachetti, said: I believe that our partnership may bring new and different business opportunities for all our employees in the period of "post-pandemic reconstruction". Women will make great contribution to the post-pandemic reconstruction process."
  International partnerships 
  "The economy is agonized in many ways," said Lili Samer, the Head of AIDDA Delegation of Friuli Venezia Giulia. "This meeting is a great opportunity to synergize, reverse the wind, and even develop international cooperation that will help accelerate the ongoing growth and development."
  "Unfortunately, women are underrepresented in trade," said Emine Erdem, the Chairwoman of KAGİDER, in her speech at the digital B2B meeting. "Only one out of five exporting companies around the world is run by women. We need to create new opportunities for women in commercial activities. In this regard, we are excited to start this business journey with our female entrepreneur members."
  Lili Samer stated in the meeting that the cooperation between AIDDA and KAGİDER represented a powerful commitment to support women's role in entrepreneurship and to reduce gender inequality. 
  New opportunities 
  New commercial and industrial opportunities between the markets of Italy and Turkey were discussed at the meeting sponsored by the Denmark-based company DFDS, one of Europe's leading logistics companies that is known for its powerful Ro-Ro services between Trieste, Italy, and Turkey. 
  Representing DFDS Mediterranean Business Unit at the Digital B2B meeting, the company's Corporate Communication Director Özlem Dalga said: "DFDS Mediterranean Business Unit continues to expand the reach of the project "We Carry for Women" launched by DFDS in cooperation with KAGİDER to support participation of female entrepreneurs in the economy in Turkey. I believe that the digital B2B meeting that brings together businesswomen from Turkey and Italy will create new opportunities."
  DFDS provides transport and shipment services across Europe. More than 8,000 shipping agents rely on ship and port terminal services as well as flexible shipping and logistics services of DFDS. DFDS employs more than 8,000 employees aboard and in offices in a network of more than 20 countries. Founded in 1866, the Copenhagen-based company is traded in Nasdaq Copenhagen.