Roma last Italian hope in this season's European football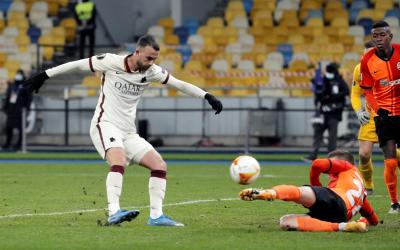 KIEV - Roma, through to the Europa League quarter finals having beaten Shakhtar Donetsk 5-1 on aggregate, are now Italy's only hope left in European football after AC Milan were knocked out by Manchester United.
  Roma went into their match in Kiev with a 3-0 lead from the first leg, but it didn't stop them fielding an almost full strength team. However, Roma played a predicatbly relaxed first half, happy to let Shakhtar keep the ball, while they sat back and defended - in the first half Shakhtar had 70 per cent of possession, but just four shots on target.
  Roma's first goal came in the 48th minute when a lucky deflection from a cross sat up nicely for Borja Mayoral to head it into the back of the net. Shakhtar equalised in the 59th minute when Junior Moraes managed to get a tap in at the back post from the headed pass of Alan Patrick, but it wasn't enough as just over 10 minutes later the Spaniard Mayoral scored another. Carles Perez managed to cut back a nice through ball into the box, for Mayoral to calmly chip it over the last defender.
  AC Milan, however, were not so fortunate, losing 2-1 on aggregate to Man Utd. The scores were all level after the 1-1 first leg, the match their's for the taking with one away goal, and the decisive match at home, but they couldn't seize the opportunity.
  The Frenchman Paul Pogba, in his first match back from a long period of injury, made the crucial difference, scoring just three minutes after coming on at the start of the second half. Even the introduction of Zlatan Ibrahimovic in the 65th minute couldn't save Milan, with a brilliant save by the United keeper Dean Henderson denying the Swedish striker. 
  Roma's other competition remaining in the Europa League are Ajax, Villarreal, Arsenal, Dinamo Zagreb, Slavia Prague and Granda.
 ol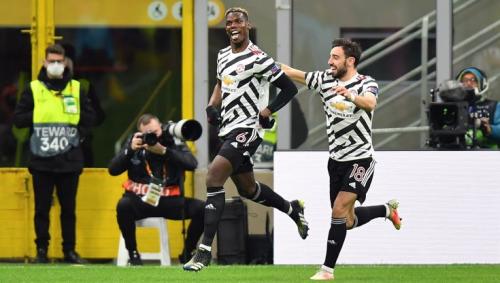 Paul Pogba and Bruno Fernandes