Draghi marks first Covid memorial day in Bergamo
  BERGAMO - Italian Prime Minister Mario Draghi on Thursday travelled to Bergamo monumental cemetery to mark the new memorial day for victims of the Covid-19 pandemic in Italy, put in place by President Sergio Mattarella, to be celebrated every March 18. 
  At the memorial event Draghi placed a wreath, and an Ernesto Olivero poem, carved onto a stone at the monument, was read. Bergamo was one of the Italian cities hit worst by Covid, with deaths in the city estimated to be as high as 6,000.
  "We cannot hug each other but this is a day in which we must all feel more united," said Draghi. He addressed the citizens of Bergamo, saying, "you have seen terrible days, many are the horrific images of this tragedy, but one is indelible, that of the convoy of military trucks loaded with coffins. This place is a symbol of the sorrow of an entire nation. It is also the place of the solemn commitment that we make today. We are here to promise to our elderly that no longer will the fragile be inadequately assisted and protected." 
  The latest Covid figures, on this day of such sadness and memorial, reveal 431 more deaths and another 324 admitted to intensive care, with the positivity rate from tests rising to 6.2 per cent.
  To make up for the recent setbacks to the vaccination campaign, namely the suspension of use of the AstraZeneca vaccine, the government has announced plans to accelerate the campaign by allowing pharmacies to administer the vaccine. 
  The government are working hard to recover public trust in the vaccine, with Draghi urging every Italian to get the vaccine when they can. The National Institute of Health (ISS) have released a report detailing how, as a result of the vaccine, Covid incidence among doctors has decreased by 98.7 per cent, with a similar trend starting among the over 80s.
  Thursday also saw polemics caused by the announcement of the new line up of the Scientific Technical Committee (CTS) of the Department for Civil Protection. The committee, which advises on strategy for the fight against the pandemic, has been reduced to 12 members, with a few new names, including that of Alberto Giovanni Gerli. 
  Gerli, a businessman and entrepreneur with a degree in engineering, is a former member of Confindustria Youth in Padua. However, it is his supposedly data-driven predictions throughout the pandemic that have raised questions over his selection for the committee, reports Il Fatto Quotidiano. In February he predicted that Veneto (which has just become red) would be a white zone by the end of the month, just one of various predictions from his 'index' that he has been promoting throughout the pandemic on his YouTube channel and website.
ol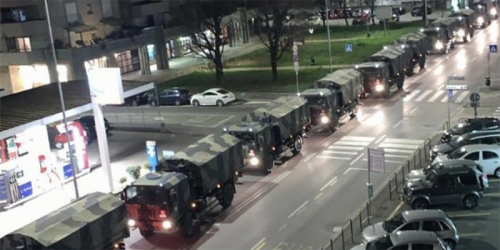 The image Draghi mentioned