Conf PMI, Recovery Plan can 'heal historic divide' with South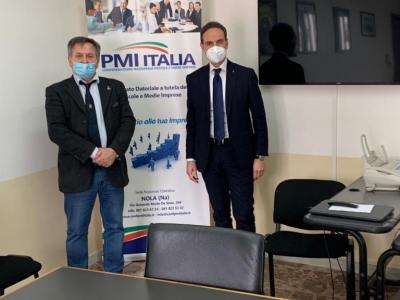 NOLA - The Recovery Plan is "an extraordinary opportunity that must not be wasted," said Senator Francesco Urraro, during a meeting this week with the President of Conf PMI (the national representative organisation for small businesses), Tommaso Cerciello.
  The meeting, which took place at the headquarter's of the national association of employers in Nola, was concerned with the use and development of the Recovery Fund and Next Generation EU.
  "It was an extremely useful meeting," continued the League's Urraro, "part of my endeavour to listen to the regions and areas of production and explore what the real needs of the country are. The Recovery Plan and Next Generation EU represent an extraordinary opportunity that must not be wasted, but used in an fair and intelligent manner, to effectively spark a real process of growth that will relaunch our economy."
  He added, "my commitment is to rebalance the proportions in respect to the partitions assigned to the various geographical areas of Italy: 34 per cent of it is apportioned to the South, but this is a number absolutely to be revised. 
  "The discussion with the world of business is an element of fundamental importance: with Conf PMI a profitable channel of discussion has been established to better represent the needs of those who make up the spine of the Italian economy"
  Cerciello also spoke, saying, "I expect that this great opportunity of the Recovery Plan will not be wasted, but used to best give life to fundamental reforms for the country, giving precedence to the small and medium sized companies above all in the South, to which ought to be addressed an amount consistent with the contributions around Europe, that can heal the historic divide and inequality of the fiscal federalism, even taking into account the density of the population resident in this part of Italy.
  "In fact recently even SVIMEZ [the Organisation for the Industrial Development of the South] highlighted that without significant interventions in the South, its economic structure will become still more precarious. As the representative of Conf PMI I ask the Draghi government, as a first act, to intervene in the tourism industry.
  "We need to realise that with this latest global crisis the world has changed, and thus we must also change the rules." 
ol