Top FAO managers from Japan, Nigeria Turkey made to quit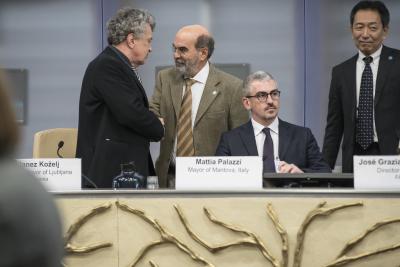 Hiroto Mitsugi (right) with former DG José Graziano da Silva in 2018 at a meeting with Slovene officials. Photo credit: ©FAO/Roberto Cenciarelli.
 ROME -- Three FAO assistant director generals,Hiroto Mitsugi from Japan, Bukar Tijani from Nigeria and glamorous Ms Dilek Macit from Turkey have been forced to resign from their lucrative sinecures at headquarters as part of the bloody purge implemented by Chinese director general Qu Dongu, FAO sources said Saturday.
 The trio were given the option of falling on their swords to save face after being told that their contracts with sky-high salaries would not be renewed at the end of 2020.
 The three were among a gaggle of ADGs appointed by previous DG José Graziano da Silva who were moved from luxurious offices last year to small cubicles under the DG's floor and came under strong pressure to prove their worth to the poverty-busting organisation.
 Few ADGs have survived the blood letting by the Chinese Communist Party's man at Circo Massimo. FAO watchers have been trying to understand how ADG René Castro of Costa Rica escaped the Chinese axe.
 In the past he was considered a nonchalent lightweight in the cruel cockpit of FAO politics however he was able to point out that the Green Climate Fund for which he is responsible had brough massive funding to the UN agency, already cash strapped after the Trump administration reduced funding to FAO recently though the United States remains by far the biggest donor.
 Mario Lubetkin, who was instrumental in trying to silence the Italian Insider through legal harassment, also survived the epuration so far despite an Italian judge dismissing the most recent vexatious case brought by FAO against the newspaper.
 jf