FAO Spanish comeback marks Chinese DG second term bid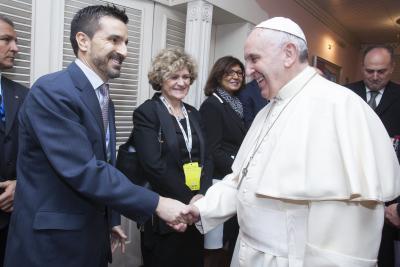 Pope Francis greeting Rodrigo De La Puerta: Photo credit: ©FAO/Giulio Napolitano
  ROME – Spanish FAO executive Rodrigo de la Puerta, who three years ago was banished to the UN agency's sleepy Brussels office, has made a remarkable comeback as director of a recently created Logistics Division, fuelling speculation that Chinese DG Qu Dongyu has begun seeking to broaden his power base ahead of a bid for election to a second term, FAO sources say.
 The bounce back by Senor de la Puerta also has led to speculation that Qu might be preparing the ground for the departure of respected French Deputy Director General Laurent Thomas, who reportedly had tense relations with de la Puerta and arranged for him to be exiled to Brussels as well as for several cronies of the Spaniard to be banished to far-flung postings from where they were unable to take much of an active part in the Machiavellian cut and thrust of headquarters office politics.
 Three years ago, with the blessing of the then DG Jose Graziano da Silva, Rodrigo was plucked from his leadership of the division managing field offices and sent to the Belgian capital office, like the Paris office largely a satellite post useful for visiting senior management executives hankering for a change from the restaurants serving Italian food with little variety in the Eternal City and its limited night life.
 Some observers see the comeback to Rome of the bearded hungercrat as a sign Qu is hoping to draw support from some EU countries for his re-election to a second term.
 China wrested control of the FAO after the Trump administration declined to support the French favourite for DG to be elected with EU backing. Washington insisted on backing an outside candidature from Georgia, splitting the Western vote and allowing Qu to sweep the board in the vote in a major foreign policy debacle for Washington as China increasingly seeks to control the UN specialised agencies.
 The Biden administration will hope not to make the same mistake but some European states such as Spain without close ties to the United States might countenance pledging support for Qu in return for senior positions for Spaniards, diplomatic sources say. China allegedly used widespread chequebook diplomacy and brinkmanship in the fierce battle to get QU elected including paying for Cameroon's foreign debt and threatening to end investment in infrastructure in Argentina and Uruguay.
 While the new U.S. Ambassador to the UN is likely to be more far-sighted than predecessors, Washington will struggle to find a way to oust Qu without jeopardising traditional U.S. control of the FAO's sister agency, the World Food Programme, where Executive Director David Beasley, although a Republican nominated by the Trump administration, has built bridges to the Democratic administration that might be embarrased to oust him given that WFP received a Nobel Prize under his energetic stewardship, FAO watchers say.
 jf