FAO Mauritanian mideast kingpin axed by Chinese DG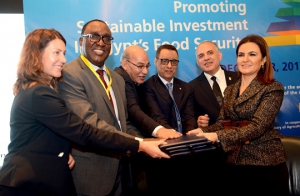 Ahmed Abdellassam, fourth from left, with Egyptian and UN officials
 ROME – The Mauritanian Food and Agriculture Organization Assistant Director General, Ahmed ould Abdelassam, brought in as a safe pair of hands to run the 32 countries in the Near East operation of the UN agency after a young Japanese staffer jumped to his death from the 8th floor of the FAO's Cairo headquarters, has been sacked as part of the latest round of bloodletting under DG Qu Dongyu, FAO sources say.
 Abdelassam was a respected figure who replaced the previous Saudi incumbent in the job, Saad Al Otaibi, who was effectively dismissed, though serving out his contract on full pay, following the murky suicide March 8, 2012,  of Shinya Abe, the Japanese young man in his 30s, amid criticism that he had not been evacuated from Egypt in a timely fashion after suffering a breakdown http://www.italianinsider.it/?q=node/1517. 
 Speculation that the Saudi ADG was a member of the royal family of the Kingdom was denied but he was certainly close to the royal family and was present at Mecca in September 2010 when King Abdullah Bin Abd-al-Aziz Al Saud of Saudi Arabia was awarded FAO's Agricola Medal in recognition of his support for improving world food security.  Saad Al Otaibi said then that the number of FAO technical cooperation projects in Saudi Arabia increased during King Abdalla's rule, to $62 million.
  The appointment of Monsieur Abdellassam retrospectively is being seen by some observers as "an anomaly, perhaps to Graziano's 'lack of sensitivity' to Middle East politics because the position used to be filled by a national of a heavyweight rich country providing generous funding to FAO." Nevertheless he was a respected manager who had served as FAO representative in Lebanon and Togo as well as in senior development posts in Nouakchott.
 His departure paves the way for the current Chinese DG to curry favour with the Saudis or the UAE while a Mauritanian regional boss could have faced difficult decisions given the surge in tension between Algeria and Morocco over the Western Sahara rebus, diplomatic sources say.
  Other staff members believe that an ADG from outside the Middle East who can be entirely above its intricacies and rivalries might be preferable.
 FAO activities in remote parts of the Gulf are often shrouded in secrecy. The FAO office in Saudi Arabia is technically part of the agriculture ministry of the Kingdom and a senior FAO official there was fired after he refused to give a bribe to a Saudi official, as reported by the Italian Insider.
 jp
Axed: Ahmed Abdelassam. photo credit> FAO