Juventus close in on Milan while Torino fail to show in Rome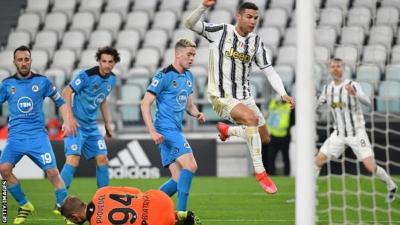 TURIN – While Juventus managed a comfortable 3-0 victory at home to Spezia on Tuesday night, their neighbours Torino failed to show up in Rome for their match against Lazio.
  The win for Juve helped them solidify their position in third place, and they are now snapping at the heels of the two Milanese teams above them – AC Milan only three points ahead.
  A goalless first hour at the Allianz Stadium was ended by the introduction of Federico Bernadeschi and Spain's Alvaro Morata onto the field. Within a minute of being on, Bernadeschi set up Morata for the first goal of the match. Bernadeschi was originally ruled offside for the long ball put through to him, which he cut back to Morata, but VAR soon overturned this decision and the goal was allowed.
  The substitutions by Juve coach Andrea Pirlo changed the whole flow of the match and nine minutes later the home team scored another through Federico Chiesa, who scrambled to get the ball in the back of the net after his first shot was deflected.
  The final few minutes of the match saw success for both Cristiano Ronaldo and Wojciech Szczesny, with the Portuguese forward scoring on the counter attack in his 600th league match, and the Polish goalkeeper saving a penalty. Ronaldo has scored 20 or more goals in each of the past 12 seasons.
  Juventus' neighbours, Torino, meanwhile aren't enjoying such good fortunes. Currently struggling just above the relegation zone in 17th place, the team were due to play Lazio in Rome on Tuesday night but the game was abandoned when they didn't show up.
  Seven Torino players (and one member of staff) tested positive to Covid-19 this week, which resulted in their match with Sassuolo on Friday being postponed, but Serie A officials wanted this match to go ahead. However, local health officials in Turin didn't allow the club to travel. This resulted in a bizarre scene in which Lazio, still waiting for their opponents, were forced to cancel the match, but not until 45 minutes after it was due to start.
  Serie A rules state that Lazio should be given a 3-0 win and Torino a one point deduction, however when a similar thing happened in a Napoli-Juventus match last October, Napoli managed to win an appeal over the point deduction and the teams rescheduled the fixture.
ol