NGO-run ship 'exchanged money for migrants'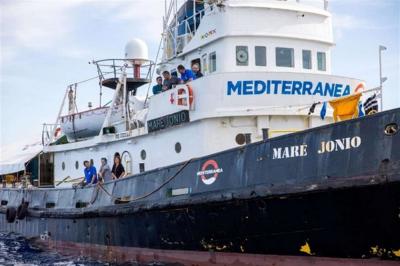 RAGUSA - Four men are being investigated by Sicilian prosecutors for allegedly bring 27 migrants to shore in exchange for a sum of money, judicial sources said Tuesday. They are being charged with aiding illegal immigration and violating the navigation code, the sources said. An NGO has strongly denied any wrongdoing in the affair. Rightist politicians in Italy have long claimed that NGOs are involved in people smuggling or making dubious deals with people smugglers operating out of Libya.
  On Aug. 5, the oil tanker Maersk Etienne rescued 27 migrants from a ship wreck. However, they were then unable to find a safe port that would accept them and sat at sea between Malta and Lampedusa for 38 days before the Mare Jonio, owned by Idra Social Shipping srl but managed by the NGO Mediterranea Saving Humans, agreed to take them in on Sept. 11.
  This situation was at the time was called 'the disgrace of Europe', according to the NGO - international convention dictates that rescued migrants should be disembarked immediately at a safe port.
  It is alleged that in exchange for taking the migrants off the hands of the Etienne crew, Idra were given a large sum of compensation money. Having picked up the migrants they dropped them off in Pozzallo in Sicily.
  Fabio D'Anna, the head of the Ragusa prosecutors, clarified to ilfattoquotidiano.it that "there is no investigation into Mediterranea Saving Humans," but rather it is into the heads of Idra, the society that owns the ship.
  The four men under investigation are Beppe Caccia (former regional councillor in Venice) and Alessandro Metz, the leaders of Idra; Pietro Marrone, the ship's commander and Luca Casarini, one of the leaders of the Italian 'no global' movement of the late 1990s, now occupied with rescuing and defending migrants. 
  A statement from the Ragusa prosecutors describes the exchange of money "after the conclusion of an agreement of a commercial nature between the companies that owned the two ships, in virtue of which Mare Jonio received a large sum of money as compensation."
  The investigators have searched the properties of the men and are currently looking for other economic agreement linked to the shipping of migrants.
  Mediterranea condemned the investigation with a statement on their website, "Idra social shipping has never been involved in anything illegal and will prove this in the appropriate venue. And, Mediterranea will not stop because of this sad and predictable attack. Mediterranea will continue to be at sea - where crimes of slaughter, torture, rape and persecution are carried out."
  They added that, "The charges are serious but the real target is the civil rescue operation at sea that Mediterranea has carried out since 2018 through its shipping company, Idra social shipping, which provides the association with the search and rescue ship and manages its crews and equipment."
 jp-ol